Hector is off to Bradford this weekend, something to do with the Ale Festival, allegedly.  Mr Holden has already booked me a Lamb's Liver Curry in the Hector-style, as the good people at the Sheesh Mahal put it.
Tonight I was surprised when Marg suggested we go out to Mother India's Cafe (1355 Argyle Street  Glasgow, G3 8AD).  Perhaps the demands of Last night's Lamb Chop domestic experience had whetted but not satisfied her Curry desires.  Butter Chicken certainly would.
I have been taken aback by the positive reaction to my first attempt at Lamb Chops, we have Iva from Singapore I believe, and our regular correspondent, Ahmed from Pakistan, both making favourable comments.
Meanwhile back in Glasgow
The restaurant was quite empty I thought for 20.00 on a Thursday evening.  We were allocated a small table for two, other couples had larger tables, why?  The Specials did not look that special this evening, I resolved to break from tradition and order two separate Lamb dishes, the Karahi and the Saag.  A Paratha felt appropriate.  Marg knew Butter Chicken would be her main entertainment but ordered Fish Pakora and Mushroom Bhaji too.  The normal Rice with Nuts was not on the Specials and so Plain Basmati was ordered to soak up the rich, creamy and runny Masala.
The Fish Pakora I felt was better without the Dip, the spicy batter to the fore.  The Lamb Karahi arrived next complete with the dreaded green mushy vegetable.  The Paratha was dipped, nothing, the Lamb was then sampled, too tough.  Things were not going well.   Marg's Mushroom Bhaji arrived in a strange looking pan, it bore no resemblance to a Bhaji by normal expectations.  It was a vegetable Curry and a bland one at that.  The Mushrooms appeared to be from a tin which is inexcusable in the West of Scotland.
The Lamb Saag was brought, it looked the part,  but it tasted soapy! How can Spinach taste Soapy?  The Lamb was much more tender than it was in the Karahi which was puzzling, surely they had been prepared together?  Maybe the presumably less popular Spinach dish was from a previous batch.  I was not having a good time.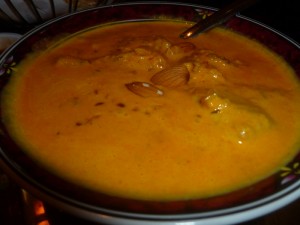 Marg stated, almost to my annoyance, that the Butter Chicken served here is her favourite Curry served anywhere!  We shall be back.
 The Bill
£31.15.  This included a Coffee and a large bottle of Sparkling Water.
The Aftermath
I was tempted to let my lack of enjoyment be known but I did that in their main premises two years ago.  I also recognised the waiter as being the one pictured back then.  It is not my intention to create a scene, this is my outlet.
On a brighter note
I drove home in the wrong direction initially to see how the new Akbars (formerly the Tiffin Rooms) was coming along.  I was informed of this development last month and immediately contacted Mr Shabir Hussain the owner. I congratulate him already on being on the correct side of Charing Cross.  This new venue for the Bradford chain looks as if it is open.  Next weekend, ?Stan!