Ricky, our resident Bradford Curry Guru,  phoned three days ago to say that my meal for this evening at the Sheesh Mahal (6 St. Thomas' Rd, Bradford, BD1 2RW) was already ordered. Lamb's Liver in the Hector style as it was put to him by the staff. Hector cannot abide Liver, it is one meat I do not normally eat. As Ricky has been working his way through the Offal menu in recent times,  he felt Liver had to be experienced.  ?Stan! would comply with whatever madness Ricky had in mind.
I was given the task of phoning the restaurant from Haigy's Bar to advise them that we would be a bit late for our 23.30 booking. Hector is on the phone! I could clearly hear being announced to the colleagues, apparently the warm welcome was already under way.
We arrived in reasonable time and took our seats. The young waiter was confused when the menus were declined. Omar was soon there to greet us as was his father, the owner. The three of us were being treated like Royalty, Ricky's wind up banter was relentless. The young waiter finally had to come and ask us what we were having so that a bill could be presented one concludes.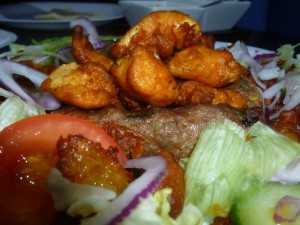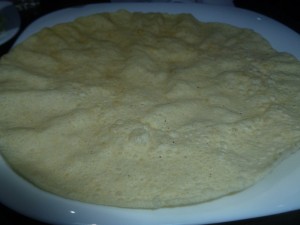 The Complementary Poppadoms and Dips were set before us, Seekh Kebab and Bhaji were there too.  I declined, excessive food on top of the Schlenkerla Urbock and Andechs Weisse consumed previously at the Bradford Beer Festival did feel like a good idea. Liver may also have an unwelcome effect, Uberschuss in Massen then.
OK the, Liver it is
I had been promised that normal Lamb would also be included with my dish. Ricky and ?Stan! appeared to have Liver only. My dish was mountainous, they had given me my normal Omar Special , a Lamb Karahi done my way, with the Liver mixed in. I was expected to eat all this? Chapattis were the sole accompaniment for us all. The word Chapatti was never mentioned, a pile of the Bradford Bread was put on the table without a word. This is how it is done and they are included in the price of the Curry.
I dipped the minimal Masala, it was as wonderful as ever. The Liver looked well cooked, a start. I ate some pieces, it was better than any Liver I have eaten in the UK. Israel is the only place I have ever managed to eat this foul meat – there it is overcooked and when meat is served on a Kibbutz, one eats it. I ate maybe half a dozen pieces of Liver before deciding to concentrate on ensuring that the quality tender Lamb was enjoyed to the full. My leftover bits of meat were siphoned off to another plate, Ricky's. ?Stan! was here too, as ever he does not say much when he eats.
Taj, Mein Host came and sat beside Hector and we had a good chat about the renovations and the speed at which they were able to demolish and rebuild. The premises are now top notch, as salubrious as any Bradford Curry Cafe, better than many restaurants. As part of the Royal visit with Marg and Jonathan last month, we were served Sweets for Dessert. Tonight these were declined in anticipation of them being offered. How does that work? You had to be there.
The Glasgow Curry scene was discussed and the opening of the new Akbars near Charing X. Apparently I have been to their original premises on the Leeds road on more than one occasion, but in a previous life. Ricky spoke favourably about Curry in Glasgow, I announced that we have maybe five restaurants that can cook as good a Curry as is served in this city. (The highest ranks on the right column!)
Many photographs were taken, the staff like the idea of their photos being published.
The Bill
£25.00. Less 10%! Ricky insists that there is a 10% discount for CAMRA members. Well there was in the previous incarnation of the Sheesh Mahal, perhaps not so now. I believe we deducted 10% then added it back on for the tip. On Holden Tours, one is never quite sure what is happening.
The Aftermath
There is a Curry House (it is reportedly worth a visit) and a Taxi Office next door to the Sheesh, so we were soon whisked down the hill and dropped near the Hilton.  Only Ricky knows why the taxi could not drop us off outside the hotel.   Long may the Hilton insist on selling their weekend rooms at prices commensurate with a Bradford Curry.