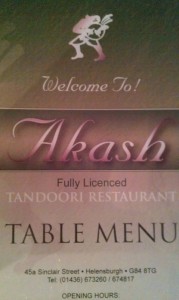 Tonight Hector is joined by Marg and Eleanor for a midweek Curry-Heute.  The ladies both went for the Lamb Rogan Gosht, Hector's staple diet at the Akash (45a Sinclair St, Helensburgh, G84 8TG) for many years.  Having been slightly disappointed by the noramlly excellent Lamb Makhni with Spinach on my last visit, tonight I opted for the Methi-Gosht Bhuna, ah, Methi...
Two Vegetable Rice and two Chapattis were the accompaniments.
At the Akash I always have to check on the wonder that is their Chicken Chat, sadly this must have been Chicken Ding this evening as it was not heated all the way through.  Eleanor enjoyed the Fish Pakora and Marg still finds the Vegetable Pakora served here to be the very best, her favoutite Pakora!
The mains arrived, the Bhuna had far too much Masala, but at least it was thick -ish.  This Curry certainly needs Rice so the share of the Vegetable Rice with a solitary Chapatti was ideal.  Where was the Methi?  I cannot say I was overwhelmed with the presence of this fine Herb.
The ladies tore into their normally reliable Rogan Gosht, however, they agreed that tonight the Lamb was on the tough side. Shame, two negative Akash reports in a row.
What is happening?
The Bill
£42.25.  This included three soft drinks and a Takeaway Pakora.  After the joy of Bradford this brings one back to reality.
The Aftermath
The final evening commitment of this session, so perhaps no more Helensburgh Curry-Heute until the autumn…