Hector's Dream – Bradford Curry on his doorstep!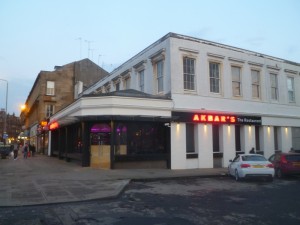 John, the Bradford Curry Blogger, informed me a few weeks ago that Bradford's Akbar's restaurant would be opening a branch in Glasgow. I got in touch with them to seek further information.  Mr Shabir Hussain replied and informed me of their scheduled opening on Sauchiehall St  (573–581 Sauchiehall Street, Glasgow, G3 7PQ) at the end of February.  The name Akbar has not been used in the Glasgow Curry scene since the demise of the wonderful restaurant that was in Cochrane St.  Where are they now?
Akbar's grand opening was at the start of this week I gather, Hector was not invited.
This site is at Charing X, right in the hub of the Glasgow Curry scene.  With Café Salma (sorry, Hassan I will be back…) on the same block and the excellent Punjabi Charing X around the corner, there is stiff competition.
?Stan! was waiting for Hector in the former Tiffin Rooms at 18.00, punctual as ever.  The Chap on the door led me in to a small table for two.  ?Stan! had already been asked if he wanted Popadoms, these were on the table.  A large laminated menu was given to us and we set about finding the dish that would hit the spot.  I had three dishes that looked as likely candidates.  Under Chef's Specialities was the Roshan Lal: A spicy lamb dish cooked with onions, tomatoes and peppers in a rich sauce, garnished with onions and coriander.  ?Stan! went for the Karahi Lamb Palak, he likes his Spinach.   Our young waiter had difficulty writing down our order, and sought help.  The next Chap asked us if we wished our meals 'in the Asian style?'  I wonder what he meant by this, are we not in a Curry House?  Four Chapattis were the accompaniments.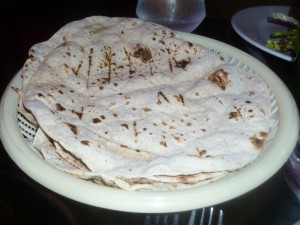 The Poppadoms, Dips and Chapattis had now set us back £5.80, in Bradford these tend to be inclusive.  However, it is apparent that given the amount of money they have spent refurbishing the premises they will need to recoup their investment.  A large table for twelve was set up beside us, with another similar table behind.  I was commenting on the likelihood of these being filled when the party arrived and occupied all forty eight seats.  The place was now buzzing, ?Stan! and Hector were the only non-Asians in the very large room.
Our waiters were keen to be helpful, we were advised that our meals would take fifteen minutes.  No problem and good to tell us.
What felt like ten minutes later, a Chef appeared with a plate of Salad.  He then returned with our waiters and the main meals.  We were under strict orders not to touch the Karahi as they were hot.
The plates were abandoned and the Chapattis dipped in the Karahi – Gosh!  This was one of those magical Damascus-like Curry moments.  Not since my first visit to Yadgar have I witnessed such Curry pleasure in Glasgow.  This was truly wonderful – the distinctive Bradford flavour which I believe comes from the perfect balance of Spice with Methi was most evident.  The Lamb was cut small as is traditional in Bradford but not as small as in the Kashmir.  There was a lot of it too! This was the veritable feast, every mouthful was sheer joy, exactly how I like my Curry.
?Stan! was shifting in his chair.  I have come to realise that this is how he expresses his sheer pleasure.  He made his normal positive 'hmmnnsss…' and then pronounced it as most enjoyable.  The Lamb and Spinach dish looked impressive but now I am stuck in the rut.  If the Roshan Lal is this wonderful, is there something better on the menu?  It will take me a few visits to experiment further.
Our waiters were attentive throughout our visit. They asked if our meal was 'OK', 'no', I replied , it is wonderful!'
The Bill. 
£27.70.  We were anticipating the bill to be higher, with two soft drinks included.
 The Aftermath
I gave my card which had made it to the door by the time we were leaving.  I told the Maître d' that I had been in touch with his boss previously and he should pass on my congratulations.  The staff have clearly been imported from down south, there were no familiar accents to be heard.
There will be a return – as soon as possible.  The ultimate test is to see if they can replicate this wonderful food on a consistent basis.  We all know that when it's Chef's night off the food can vary in some restaurants.