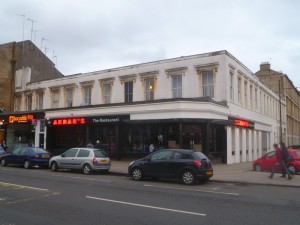 When Mags heard about the quality of the Curry served to ?Stan! and Hector at the newly opened Akbar's (573–581 Sauchiehall Street, Glasgow, G3 7PQ) we arranged another Saturday outing for The Friends of Hector.  At our rendezvous this afternoon, Mags stated that she was now worried given the very negative report written about last Sunday's visit to the same venue.  Which version of the Curry would be served?  Numbers were diminished by a CAMRA AGM and two of the players being in Yorkshire. Eleanor suggested last evening that she may come; Neil was a last minute addition.
Akbar's opens at 16.00, 15.00 is our normal starting time.  Eleanor was there sharp at 16.00 and was not the first customer.  She had managed to negotiate a drink at the bar whilst she waited for an unknown, to her, number of folk to arrive.  A few of the staff recognised me; well this is my third visit in eight days.
Waiter #1 introduced himself and was promptly replaced by Faruk when in full Hector mode I showed the photographs of two disparate meals pertaining to be the same dish. Faruk promised he would ensure that we would receive our Curry the way we like it.
We declined the Poppadoms and Dips, that was £6 off the Bill already.  Not ordering Poppadoms appeared to upset more than Faruk, four times in all we were either offered Poppadoms or were asked to confirm that we indeed did not wish any.  Staff can be attentive, invasive is something else.
In The Asian Style
This expression was first uttered to Hector eight days ago by the waiter on my first visit.  This expression was not used last Sunday.  Faruk was quite open that they serve meals differently 'to the English' as he put it, than they do to the local Asian community.  I suggested that two menus would be a better option than leaving people to guess as to what they might be served with.
Hector negotiated the potentially stunning Roshan Lal (without Capsicum), Eleanor and Neil followed my direction but ordered Special Rice and Pilau Rice respectively, two Chapattis for the Hector.  Mags chose the Lamb Potato Karahi, a Chapatti and a Mushroom Rice, the latter was not on the menu but proved to be no problem.  We were advised there would be a fifteen minute wait, and no, we did not need Poppadoms.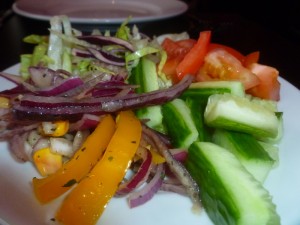 A Salad appeared as it had done on my first visit shortly before the arrival of the mains, a good system.  Four splendid Karahi were brought to the table with the sundry items.  Hector already knew by the look of the meal that this was going to be a repetition of Roshan Lal #1.  This was Neil's first ever Bradford style Curry, as a regular commentator on this Blog he knew he was in for a treat.  The Karahi were filled to a level of more than adequacy, the Lamb again cut small in the Bradford style.  Mags now knew she had ordered too much food, but there is always the doggy-bag.  Eleanor expressed pleasure in what she was eating; needless to say I was in another place.
Once again I had been served with a magnificently dry dish, with oil sitting at the base of the Karahi.  The flavour of the highly seasoned Ghee is part of the overall experience, this coupled with the blend of Spice and Herb makes the perfect Bradford Curry.  I have been asking Bradford Curry House owners for years to set up in Glasgow, finally it has happened, Hector is once more in Curry Heaven.
Mags described her Lamb and Potato Karahi as 'bloody marvellous'.  For the Roshan Lal, Neil chose more sober words: 'very tasty, rich and salty' whilst Eleanor stated that the Roshan Lal had added to her 'Health and Wellbeing'.
On completion of the meal Faruk reappeared and apologised for having not been with us for the last ten minutes or so, he had been at a meeting with the owner.  'Is that Mr Shabir Hussain?' I asked rhetorically.  I told our waiter that I have been in touch with his boss by email in the last couple of months and would be pleased to meet him.  Minutes later the very young and handsome Bradford Entrepreneur presented at the table and introduced himself.  Eleanor had been primed with the camera.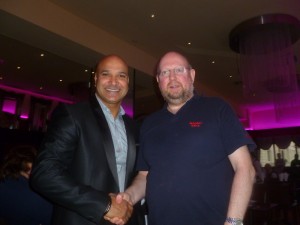 The next twenty minutes
After some pleasantries Shabir was making his farewells when he changed his mind and took Hector away – we are going to talk Curry!
Hector was lead over to the kitchen hatch and shown where the meals are prepared in their final stages.  The oil is allowed to rise to the surface and is drained off about three times before the meal is declared ready.  The Chef appeared and shook the hand of Hector.  By now every staff member had clocked me and was wondering who one earth…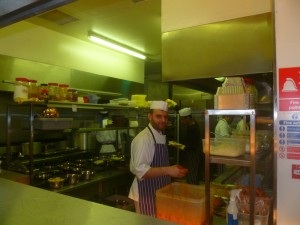 Shabir showed me the side area where Marg and I had sat on Sunday and related that to the size of his first premises.  With branches around England he has made his name in the World of Curry.  Mr Hussain has been approached by other businessmen offering to set up franchise versions of his Bradford Model, these offers have been rejected.  This man is hands on and will be staying in Glasgow for the next few weeks to ensure that all goes the way he desires it.
Having received a congratulatory email from Hector last Friday and then a critical one last Sunday, Shabir was keen to get to the bottom of what had happened.  He is convinced that I was given the wrong meal.  Part of the problem could well be related to the policy of dual versions of each dish.  For those who want a Buffet and a pint of lager, the Koh-i-Noor around the corner should satisfy these minimal needs.  Surely anyone going to Akbar's is there because they know what the place stands for?  I related the saga of a taxi driver dropping me off at Yadgar, one of my favourite South-side Curry venues: 'The food here is good, but my wife cooks better at home', he told me – 'Driver, take me to your house!' was my reply.  Shabir is determined that when the Asians dine out they will be treated to food better than they can have at home.
I returned to the table expecting to find three skeletons waiting for me, I had been away a long time.
The Bill
£52.15.  The cash had been assembled and I took it over to the Cashier's desk.
The Aftermath
We were escorted from the premises. Not in that way.  There was much shaking of hands, the Celebrity Diners were leaving.  The Maître d' at the door was the Chap who had been on duty on Sunday: he asked if my meal had been better than on my previous visit.  I assured him all was well.
Hector will find it difficult to eat anywhere else for the next few weeks, but I have promised Jonathan a trip to Yadgar midweek.  What we have learned from today is that when one is dining at Akbar's one has to ask for one's dish to be served:
– In The Asian Syle!