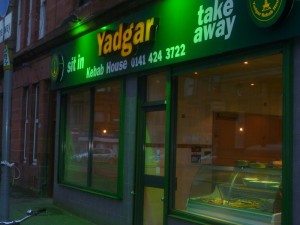 Consecutive Tuesdays, and Hector finds himself on the South-side again around tea time, there is only one thing for it: Yadgar (148  Calder St, Glasgow, G42 7QP).  Jonathan was up for the return, [Stan.TB] in his latest incarnation, wanted to be part of our midweek indulgence.
We arrived punctually for the 18.30 rendezvous, so punctual we were ten minutes early.  The young waiter brought us the Complementary Chunky Onion Chutney, Mango Chutney and Poppadoms.
The feast was underway.  A Salad appeared, [Stan.TB] and Jonathan got stuck in, Hector was more reserved.  We had no idea what was coming next, no order was placed.  I texted Shkoor at lunchtime yesterday asking him to feed three, no other communication was necessary.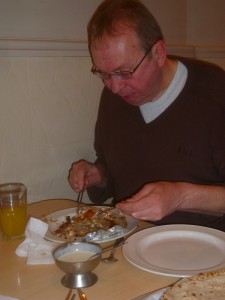 A platter of Spicy Scottish Cod was then set before us, it looked even more magnificent than the pair of Fish Jonathan and I had consumed last week.  [Stan.TB] was taken aback, well that is my interpretation because as the readers know, he rarely passes a verbal comment.  The Cod was once again cooked to perfection with the Spicy Crust being the focal point of interest.  Tonight I added some of the Red Dip that had recently appeared.  Hector was finished the second phase and sat waiting for whatever creation would follow.
[Stan.TB] was still eating the Fish when the large Karahi and basket of Chapattis arrived.  Two of us were ready.  More Salad –  the restaurateurs of Glasgow  must unanimously agree we need more Salad.
We were given a pile of dry Lamb, no a mountain, thick with Methi.  So Methi Gosht it was we concluded.
Hector started, Jonathan joined in, [Stan.TB] was now ready.
The above gap represents the silence that followed.  Jonathan remarked on how tender the Lamb was, it was indeed.  [Stan.TB] said absolutely nothing.  Hector completed the mandatory photographs, we ate in companionable silence.
Shkoor made his appearance as we tried not to be out-stared by the last two pieces of Lamb.  Our enjoyment was confirmed.  Hector then spotted a familiar face, it was Hamsa, late of The Khyber, Scotland's first Afghan restaurant.  It was good to see that he had found somewhere else excellent to eat.
Once more we sat, motionless and silent, stuffed.  When Shkoor took the empty Karahi away [Stan.TB] spoke: 'Has he gone to refill it?'  Can we have our real Stan back?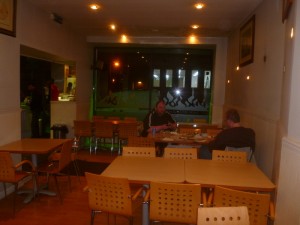 Mr Shah has not been seen for some time.  It was Mr Arshad who has been cooking our still excellent meals in recent visits.  We wish Mr Shah a quick and full recovery.  He is The Man!
The Bill
£40.00.  A nice round sum, who knows what it could have been?  We were too polite to make the calculation, anyway the Fish is not on  any menu we saw.
The Aftermath
Three men waddled out into the first night of Spring.