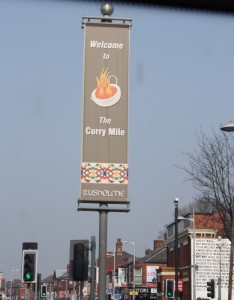 Marg announced a few weeks ago that she was planning a mini hockey tour for her first XI to Manchester.  I was invited to accompany her, nice.  A pity this may not be the last use of the term nice in this report.  The location of the opposition hockey pitch just happened to be one block to the west of Manchester's famous Curry Mile, Hector became very interested.
The Travelodge on Upper Brook St where I had resided back in January of this very year would once again prove to be the perfect place for nocturnal repose.  Speeding down to Manchester last evening at a steady 62mph courtesy of the restricting gizmo in the minibus, it was a somewhat late arrival – would you believe Pizza was the food of choice?
This morning there was an early rise leading to the game of hockey which the visitors won.  The drive back to the hotel gave the opportunity for Hector to see the Curry Mile by day.  One young lady asked if it really was a mile.
There was now an hour in which the ladies could satisfy their need to shop.  Hector led Marg to Al Faisal (58 Thomas Street  Manchester M4 1EG) for Curry #1 of the day.  Somehow we had managed to park in Turner St, right in the heart of Manchester's Curry Cafe scene.   It is strange how these things happen. Having eaten a substantial breakfast, Marg was content to watch Hector indulge himself in a Lamb Karahi.  A single Chapatti would prove sufficient, the lesson having been learned about ordering two on the last visit.
Served in an instant, the meal was brought with Marg's milky looking tea.
The Karahi was very much in the Shorva style, not quite Soup but with a very runny Masala.  The pedigree of this Masala was evident; the Onion had been well pulped.  This is the classic 1960's style Curry which is wonderful to experience on occasion.  Well seasoned Masala and an adequate portion of Lamb for this time of day, what more does one need for lunch?
The Bill
£6.00.  The Chaps may have noticed that Marg had left half of her cup of tea, too strong for the Lady.
The Aftermath
Bolton Wanderers 2 v 1 Blackburn Rovers. This was Bolton's first match since Muamba's collapse last Saturday, an emotional day.   It also involved the drive up to Bolton and back to Manchester, for another Curry!
Curry #2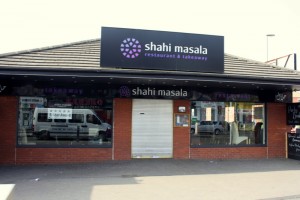 Shahi Masala (18 Wilmslow Road  Rusholme, Manchester M14 5TP) is a modern venue on The Curry Mile that Hector had spotted by night back in January.      It looked a decent venue to take our young party of Hockey Enthusiasts, some of whom were already familiar with Curry-Heute having nominated Hector last year in his attempt to become Scottish Curry Lover of The Year.  Our table for fifteen was attractively set up.  Poppadoms and Dips were spread out in three batches.  The Poppadoms were evidently not Complementary, nor were the Dips for which there was apparently a pro rata charge.  By my reckoning we were already £18 into our Bill, smart.
Thirteen Ladies of varying Curry Experience and tastes, inevitably Katy, sitting beside Hector, selected the infamous Chicken Tikka Masala.  Evie took advice and ordered the Chicken Korma on the basis that Spice would be non-existent.
Rogan Josh, Pasanda and Kashmiri were other mainstream dishes ordered by our collective.  Then there were the more discerning diners.  Sophie impressed most with her order of Lamb Chops: 'very nice' was her verdict.  I think our educational establishment should try and expand  the descriptive skills of our charges.  Morven also impressed by her selection of Kofta.  She found her dish to be a bit too Spicy for her tastes, but good on her for being so radical with her selection.
Initially I thought the girls were ordering Curry with no accompaniments; however they had efficiently worked out combinations of shared Rice and Nan.   It just took a bit longer for the accompaniments to arrive. Overall one has to marvel at thirteen willing Curry participants with no mumbles of discontent.  In the early 1970s when Hector was this tender age, there is no way this many homo sapiens of the female variety would ever have contemplated such a feast.  There is hope for mankind.
Marg went for the Lamb Punjabi Special which she was determined to share with those who were sitting nearby and had chosen Chicken.  Fortunately there was a couple of pieces of Lamb coming Hector's way which enabled me to deduce I had ordered the correct meal, let me experience a second and ensure that the Curry Lust had be satisfied, pro tem.
Hector had been online before the departure for Manchester, the Lamb Desi Karahi, on-the-bone, is exactly the dish that made me believe that this could be a decent place to visit.  I ensured that it would not be served too wet, the waiter was not that convincing with his acknowledgement.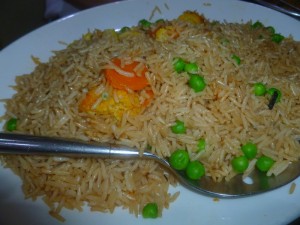 The meals had been brought on trolleys with admirable efficiency, the Rice and Breads did take a bit longer so we were mostly sitting looking at our meals with nothing to dip, hence the forementioned concern.  Marg and Hector were sharing a Vegetable Rice and two Tandoori Roti.  The Roti were splendid and the Rice more than enough for two.  It was the quantity of my Curry that concerned me, when one takes the bone content into account, this was decidedly minimal.  The flavour of the Lamb Desi Karahi was very distinctive with a predominance of Cinnamon.  Hector loves this, and had tried to emulate this over the years of Curry Cooking but has never managed to bring the full flavour out.  In many ways the overall impression of this dish was an on-the-bone Rogan Gosht with Cinnamon dominating instead of Tomato.  I would certainly return here and order this again, but then there are one or two more places on the Wilmslow Road to visit.
*
The Bill
£177.55.  For fifteen people this is not bad at all, I am still not sure if the Poppadoms and Dips were included.
Laura was evidently more excited about obtaining a copy of the Hector Calling Card than the staff.
The Aftermath
Ten Pin Bowling at the Trafford Centre.  Now there is a very silly building…