This is only the third time I have made a Curry-Heute posting without having tried the Curry first, but once more a Curry Haus in a special location has to be reported.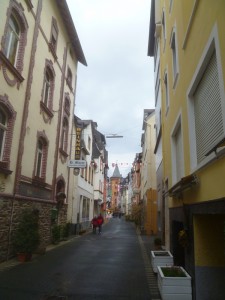 Until today I did not know of the existence of the Taj Mahal (Balduinstrasse 46, 56856, Zell, Tel: 0049 6542 962465), it does not show up on Mr Google.  It was on a whim that we went to Zell today just to pass the time before our flight home.
Open at lunchtime it will certainly be visited in Oktober when The Chaps return.
Mein Host was happy to chat and mentioned the fact that he gets many visitors from 'England'.  Bernkastel-Kues is his nearest competitor, so at least it is now known that there are two outlets on the Mosel, then of course more down at Koblenz where the Mosel joins the Rhein at Deutsches-Ecke.
Update
When phoned in October 2014, there was no reply.