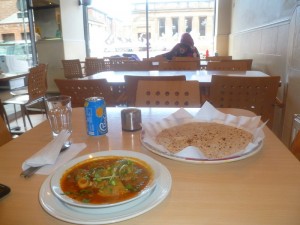 After the delights of last evening at the Alba/Asia Network Curry Night, Hector was once again dining alone.  What better than to drop in unannounced at  Yadgar (148  Calder St, Glasgow, G42 7QP) and see what is on offer for Curry-Heute.  The Chicken and Chickpeas looked very tempting but come on, Chicken?  Lamb and Turnip Shorva sounded more of a challenge.  Turnip is a Vegetable Hector chooses not to eat, I find it generally unpleasant.  One has never seen Turnip before in a Curry, this could be the one and only time it is ever eaten.
Naveed took the order along with the customary pair of Chapattis.
I had hardly settled when the meal arrived; one assumes the Chef keeps some of the Daily Specials on the Hob.  This was a normal portion of Lamb on-the-bone with the classic thin Shorva Masala.  This makes a fine change from the usual Goshat Karahi, Yadgar's signature dish.  The Turnip was not a problem.  Wrapped in a bit of Chapatti it was harmless and did not offend the Hector palate.  I might even go as far as saying it was pleasant, one needs a Vegetable.
The moment I finished my meal the door from the Kitchen opened and Mr Anwar Sr. made an appearance.  'How did you like that?' he asked.  I told him it was probably the first time I had eaten Turnip in maybe ten years.  He explained that when Shorva is cooked one cannot just have meat and sauce, a Vegetable is necessary.  Normally this would be Potato but some people ask for Turnip for a change.
Mr Anwar went into the Kitchen momentarily and returned with a small bowl.  The last time he did this it was a portion of just-cooked Semolina he presented.  Today it was a Vegetable Curry.  I had not seen this at the Counter, I probably would not have ordered it anyway, but I shall be asking if it is available in future.  This was a truly wonderful, the full Yadgar flavours were there in this minimalist dish.  Potato (maybe this Tuber should feature in every Curry?), Carrot and Peas – simples.  A side portion of this between two or three people would be ideal.  It may go some way to solving the problem of not ordering the outstanding Vegetable Rice.
Hector has once again been spoilt.  The education continues: Curry without Rice, Turnip, Vegetable Curry.  I hate to admit it but the Tandoori-baked Chicken pieces are starting to look tempting too.
Devastating News
Whilst I was enjoying the delight of the Vegetable Curry, Mr Anwar told me that the Council has plans to renovate this block in Calder St.  They may have to close at an unknown time and for an unknown period.  They already have plans to renovate their premises internally but these have been put on hold until the matter of the exterior is resolved.
The Bill
£8.10.  A hearty feed and a Can of Juice.
The Aftermath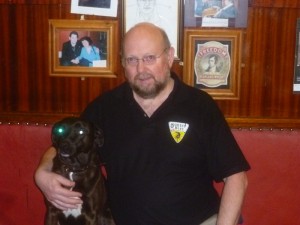 Hector did not spend the rest of the day alone.