Five of our party of six were up for a Curry-Heute.  [Stan.TB] had eaten a mass of Potato and Bits at the Corn Exchange.  We asked our taxi driver to recommend somewhere, he couldn't.  He suggested that the Bedford Curry Houses are all pretty much at the same standard.  He did not invite us to go and eat at his Mother's who is the best cook in the area, allegedly.
The Alamin Tandoori (51 Tavistock Street,  Bedford, MK40 2RF) is directly across the road from the Saffron where Hector had consumed a very impressive Lamb Balti for lunch. We were placed at a table for eight which gave us lots of space, a good start.  Five Poppadoms and Dips were requested, a solitary Shami Kebab completed the Starters.  This was for Lord Clive, who along with Lady Maggie is just back from India.  It would be interesting to see what they ordered.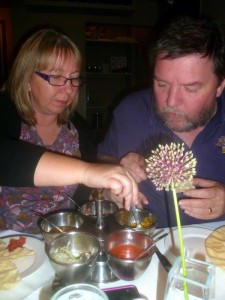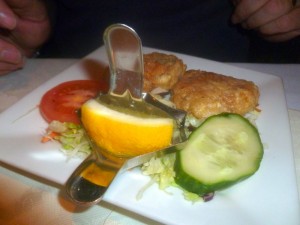 Howard and Hector spotted the same dish as being the most likely one to satisfy our needs.  The Naganzi had three Chillis and was described as Tender Lamb in a special Naga Chilli Pickle and Exotic Spices with Spicy Texture and extremely Flavoured.  I checked with the Waiter that this would not be Soup and was positively assured.
Tracey chose the Gosht Pata which was again Tender Lamb with Roasted Onion and Cream.  Tracey enjoys a Creamy Curry, and Cheesy ones too for that matter.
Maggie had the closest dish to what she enjoyed in India – the Lamb Chops Special.  Clive ordered; wait for it, a Chicken Dansak.?
A couple of Nans were to be the Accompaniments along with Mushroom Rice.  Keema Rice was a new encounter and so two portions of this were added.  Hector would have a plate of Rice!
The rest of this report will split the company into those just back from India and those who recognize that Curry is a British invention best served in Glasgow and Bradford.  The Shami Kebab was made short work of.  Clive's Chicken (no comment) Dansak was the classic Plate of Soup that the majority of The Friends of Hector cannot abide.  Clive accepted the Sweetness and described it as very nice.  One  can hardly expect a more erudite comment from somebody who orders a Chicken Curry.  Maggie got tore into her Lamb Chops.  A pile of Bones was all that was left, she was certainly satisfied, the Flavours had thoroughly permeated the Chops – of course 'Yvonne would never have eaten like that…'
The three Visitors from Glasgow were not amused by what had been set before us.
Moments after starting my far too wet Naganzi the Waiter came over to make the customary check on our progress.  I had to ask if this was indeed Lamb.  Once again an English Curry House has served up Lamb Strips which is not possible for Tender Lamb.  I was told that the House does not serve Beef.
A second Waiter said the Lamb had been Marinated and Baked in a Clay Oven.  This was Tikka Lamb then, not the Tender Lamb that the menu clearly stated.  The Naganzi lived up to its Spice rating but there was no Flavour at all from the Masala.  None.  The Keema Rice was very Dry, not a bad thing as far as I am concerned, the Mince was well integrated, there was a hint of fruit – Flavour at last.  That I was finished the lot in a matter of minutes suggests that the overall portion was not generous.  I should have ordered the Khorai not the minimalist Plate of Soup.
Howard at least had Nan to spin out his meal.  We both concurred that if the menu says Tender Lamb, then that is what they should serve.
Meanwhile Tracey was disappointed that the Onions  had merely been sprinkled over the top of her Soup-like dish.  There was no evidence that the quoted Cream had been added either.  She too found the (Tender) Lamb to be unacceptable.
The Bill
£65.25.  This was well within acceptable parameters, but then three out of five of us had not been impressed.
The Aftermath
The Calling Card was presented and graciously received.  Wed Woses were presented to the Ladies.  Two Bedford Curry Experiences –one very good, one disappointing, perhaps there has to be a decider?