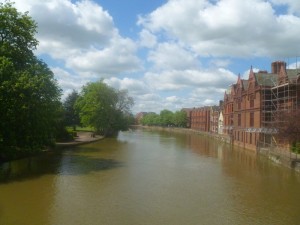 It is the weekend of the Bedford : Bamberg Spring Fest.  The Corn Exchange is hosting this great concept of bringing the  Bier of Bamberg to our shores.  Why it has taken Lord Clive three years to discover the existence of this event has yet to be established.  Bier-Traveller has an excellent account of the proceedings.
Last night Hector bade farewell to is travel companions and headed up The Broadway and Tavistock Street in the hope of securing his first ever Bedford Curry.  Yes, Bedford, not his beloved Bradford.  The Cluster of Curry venues along this half kilometre stretch of road would surely provide oodles of choice.  In the end it was established that all sitting in venues were closed by 12.30.  One waiter rolled his eyes when I asked for a table – I could not order a Takeaway as I was faced with a twenty minute walk into the unknown.  The Brickhill Rd Travelodge was somewhere to the North-East.
Rested but hardly refreshed, Hector and [Stan.TB] strolled down Foster Hill Rd at breakneck speed.  [Stan.TB] went off for a Wetherspoons Breakfast, Hector renewed his Curry quest.
The number of venues is impressive, but how many would open at lunchtime?  The Saffron (64 Tavistock Street,  Bedford, MK40 2RG)  had a board on the pavement stating that they were open.  Technically they open at Noon, but Hector was welcomed inside at 11.40.
The Lamb Balti in Leamington Spa went down well last Saturday, so whilst in England why not stick to their Speciality? Two Chapattis (40p each) were negotiated after I had enquired as to the size of the offering.  The Chef was dispatched to the Kitchen  for the first serving of this fine day.
The wait was within acceptable parameters, the Chap emerged from the Kitchen with what looked like an impressive Curry.  The Masala was minimal and thick.  The first Dip revealed an array of pleasant flavours.  The Lamb was tender, there was plenty of it, Hector already knew that he had found a decent Curry House.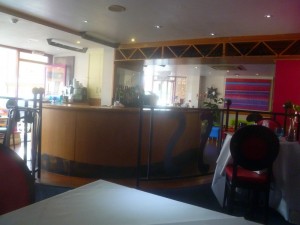 This was my first ever Bedford Curry, I was impressed.  I also knew that there would have to be at least one more Bedford Curry consumed on this trip.
 The Bill
£12.50.  This included the a bottle of Sparkling Water.
 The Aftermath
I wandered down to the Great Ouse, my first ever glimpse of this river I learned so much about at school. There was a rendezvous for a continuation of the main purpose of our visit.
There was also the choice of where to go next: