There was a Barrel Party today, as we have come to call it.  Two Barrels in fact: Pyraser Landbier and Mühlen Kölsch.  Sixteen people become very hungry after a Bier or two.  Normally the Host cooks, however with numbers this large we tried something different.
 A Takeaway for Sixteen please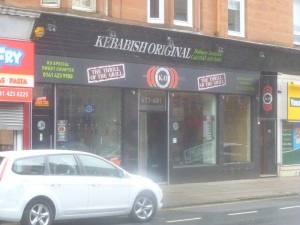 A Curry from a Chain, no problem with that, Akbar's bringing Bradford Curry to Glasgow is a welcome addition.  A Curry from a Franchise, well this is new.  A Curry from a Factory that does not hide the fact that they cook and then vacuum pack their meals before sending them out for reheating…well.
Craig and Yvonne were the first of our group to venture into a Kebabish Original, in Huddersfield.  They thoroughly enjoyed the experience. Jonathan and [Stan.TB] enjoyed Kemma Karahi at the Glasgow Branch last week, expectations were raised. It was their collective decision to order a Takeaway for 16 from the outlet opposite the Allison Arms  (677-681 Pollokshaws Road, Glasgow, G41 2AB).    This was four Meals for Four at £32.00 each.  So for once we start with the bill.
 The Bill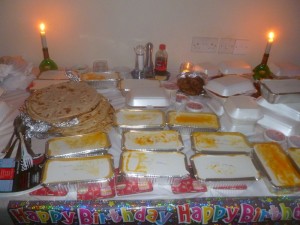 £128.00.  The meal arrived shortly after the arranged time of 17.00.   Given the quantity of the food that was unpacked this was excellent value, £8.00 per skull.
 The Eating
A Meal for Four consisted of Pakora, Chapattis and Main Meals.  Each Meal Tray was clearly labelled and so Hector had no problem finding his chosen order – Lamb Karela.  Howard secured a second, a third sat waiting to be claimed. Jonathan and [Stan.TB] had ensured that their favoured Keema Karahi would be included.  The remainder of the meals covered all possibilities: Chicken, Prawn and more Lamb.  A mass of Chicken Tandoori emerged – was this a Main or an Side? 
I was not bothering about this yet.  With a very impressive Chapatti, some of Yvonne's Home-Cooked Rice and Legendary Onion Chutney plus the Karela Gosht, I sat down to eat.  The Curry was very good, I was impressed.  In no way would it rival the best of the South Side Curry outlets, however  given the fact that it had travelled, twice, I have no complaints. 
Howard placed a King Prawn on my plate, this was from a Patia, not bad at all. Now I went back for a good sized portion of Chicken Tandoori and managed to find customers for the containers of Chips.  We concluded that we had received much more food than had been ordered.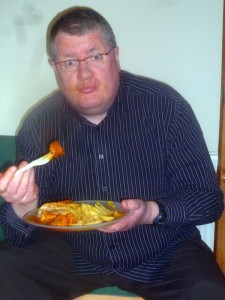 Howard also had a full portion of the Karela Gosht, he he found it stunning, enjoyed the softness of the Lamb.  So, this was a definite thumbs up for the Karela.  As the provider of the Prawn, Howard was able to describe the dish as 'Retro'.  He too had an ample portion of the Chicken Tandoori which was described as 'Stunning'.
The Chaps who consumed the Keema Karahi had differing levels of enthusiasm.   Jonathan described his meal as 'Excellent, as it was at The Source'.  Little did he know how far away The Source was.  [Stan.TB] only went as far as 'Alright' and Quite adequate.'
Clive had travelled as far as the Curry.  He had concentrated on the Prawn dish which he described as 'Excellent', but wished there had been more Prawns.  Who ate all the Prawns?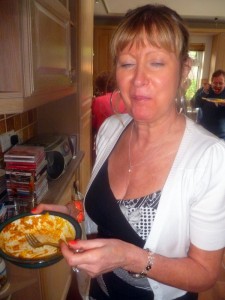 Peter had the Chicken Jalfrezi.  This must be why Yvonne had included Chicken Curry in the order.  Peter found his meal to be 'Very enjoyable, very pleasant.'  He also enjoyed the Chicken Tandoori which he accepts does not really count as Curry.
Yvonne herself had a sample of everything.  She found the Lamb to be suitably tender, and as the co-administrator for the day was appreciative of the punctual delivery of the order and the fact that there were bonus additions.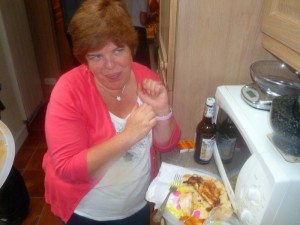 Some of these additions were Chips.  Susi was appreciative of these as Curry is not her thing.  She did try some of the Pakora which she unsurprisingly found to be 'Spicey'.
Tracey had been distracted by other non-Curry items on offer.  Anne, the Duchess of Hamilton, had brought a Pavlova.  Susi had brought Cookies.  Tracey had these along with some Tandoori Chicken.  People prefer Sweet to Savoury?  All the more Curry for the rest of us.
Alan believes he had a Rogan Gosht.  This was also accompanied by Prawns and the Chicken Tandoori.  He had 'no complaints' but then went on to describe the Chapattis as 'chewy'.
 Hereafter lies the mystery of how Curry can affect the memory.  The Amnesia Brigade all ate well but the passage of time had faded the memory, ten minutes is a long time.  One suspects that the lids were all off the containers and people just got stuck in.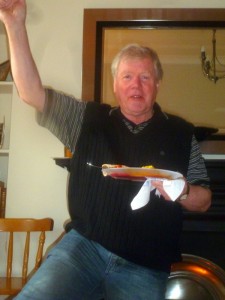 George, The Duke of Hamilton and The Birthday Boy, had a 'Red Chicken Dish' a Patia we conclude,  but then remembered he the Lamb Karela.  I had wondered who had been lucky enough to secure the remaining portion.  'Very nice' was George's verdict, I let him away with that only because it was his Birthday.  Anne his Dear Lady, and now known as The Duchess of Hamilton 'hadn't a scooby' what she had eaten Curry wise.  'Whatever it was, it was delicious.'  She too had enjoyed a portion of the Chicken Tandoori.   I wish I could establish how many were delivered.
Robin announced: 'I just ate.' 'Was it good?'  'It was better than that!'
Ewan again had no idea what he had eaten initially.  Fortunately the years of eating Wetherspoons' Curry had not affected him excessively and he finally recalled Butter Chicken, Chicken Jalfrezi and Chapattis.  'Alas poor Jalfrezi, I knew you well…' 
Mags had 'no idea, but it was bloody marvellous'.  (She supports Hearts, we forgive the strong language.)  'Chips too!' she finally recalled.  Hector has displayed the evidence Mags had Tandoori Chicken too…  Mags never remembers what she orders in the Restaurant anyway, so this was nothing new.
Dr. Rick was in the kitchen surveying what was remaining when the in depth interview regarding his food intake was conducted.  He pointed to various Containers: 'The Lamb was Kinda' Spicey, that was Sweet (The Patia) and that was moist.'  Thank you, Dr. Rick.
Craig, our wonderful Host and exposer of Knees  too had no idea what he had consumed.  He then rhymed off: 'Chips, Chicken Tandoori, Keema Karahi… I like very much.' said The Vindaloo Man.
 The Aftermath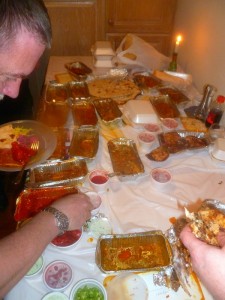 Well, I'm glad that's over.  This must rank as one of the most tedious Curry Reports ever written. , however the diversity of the order enabled everyone to have what they fancied.  Who suggested we have sixteen portions of Karahi Gosht from Yadgar?  Sixteen people were well fed at £8.00 a head.  There was enough leftover to fill three Takeaway Containers.  Yvonne needed some convincing that it was better to have some extra than have us scraping the trays for the last morsels.  The difference in price for a lesser order would not be that significant if we had ordered for twelve.
A resounding success was the overall verdict.  Well done to Kebabish Original and all those who conceived the idea.
Now next time everyone should be given a menu in advance and then we can have t-shirts printed with the individual orders.  In this way everyone will get exactly what they wish and the report will be even more accurate.