Last year the evening of the Scottish Curry Awards  ended in disappointment when a local celebrity pipped Hector to the Award of Curry Lover of the Year.  I was not that bothered about entering again, however four weeks ago I was contacted and it was made clear that I should try and add to the votes that were already in.  Ten days later it was announced that I had once again made the Shortlist for Curry Lover of the Year.  Now how Alzheimer's Scotland and Glasgow City Council could be considered for what is in essence an award to an individual appeared a mystery.  In for a penny…
The Criteria for Curry Lover of the Year
This may sound like Sour Grapes, however the 'Curry Lover of the Year Award celebrates Scotland's biggest Curry fiend – an individual that is a genuine fruit loop for curry!; – their words, not Hector's.
 We arrived deliberately thirty minutes late knowing full well we would still have to hang around before being seated.  This year our Celebrity Status was recognised and we were identified with an orange sticker which permitted us entry to the VIP room.  We were greeted by individuals from Hungry House who could well have been touting for more business. On explaining my presence I was asked by one representative if I thought Glasgow served the best Curry in the UK.    The reply took him aback: 'No, Bradford does!'
Marg remarked: 'Fancy having to do this for a living.'
A lady from the partner charity for the event – Save the Children also spent time with us.  I saw a few faces that felt familiar, the gallery in Mother India's Cafe may be responsible for this.  On our way to the event hall I met with the waiter from Akbar's, he must have known fewer people than us.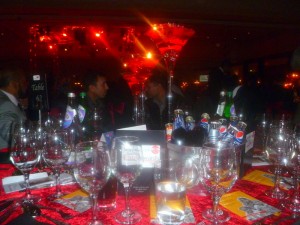 Table 62, on the same wall as last year, however the stage was now centre room so nobody was that far away.  We were joined by Hassan from the Halal Kebab House (Albert, Drive, Pollokshields, Glasgow) and his Dear Lady. Hassan was Shortlisted for Take Away of the Year.   Anne, the main Rep from Save the Children, completed our little cohort.  We were joined by seven other Chaps who made no attempt to communicate, nice to be nice.
 Ms Sharon Prasad, a TV presenter apparently, presided over the events.  The empty central stage did her no favours.  Without a podium to support her script she had to read from her cards.  Her constant rotating so that all the room could see her and having to compete with the noise from the room well, she was on a hiding to nothing.  Bring back Dr. Charan Gill.
There was an eerie silence following  the video highlights of last year's Curry Awards, the English ones…  someone thought this made sense?  
 There would be three Awards presented before dinner
Last year Trampy and the Tramp and my good self were insulted when the winner of Curry Lover was announced with no reference to the runners up.  At least this time I rated a mention – 'Hector the Curry Hound' (thanks, Craig) and 'Curry Heute', but the name of my website proved unpronounceable.
Glasgow City Council, that well known individual and Curry Lover took the prize.  Curry fiend…fruit loop, open to interpretation yes but where was the winner(s)' evidence?  Many took to the stage – which one was the individual?  Well, they do sponsor the Curry Capital competition, I believe.  'Fix', I read as a Facebook comment later, surely not?  I was beaten fair and square by the better, em, individual…
The Best Supermarket Curry Award went to Asda.  This was a great surprise as Asda sponsor the event  and would surely have disqualified themselves, or is this how one wins?
Team of the Year went to the Taj Mahal (Biggar).  The people who took to the stage looked sincere and worthy winners.  Marg and I will be there for a visit soon. Hector is back onside already!
 Time for Curry-Heute!
London Pink managed to feed us to a level of satisfaction last year.  Tonight Saffron Events UK took on the challenge.  How do you feed @700 discerning Curry experts?  Canapes had been served VIP room prior to kick off but these had been declined, the appetite must be kept intact.  Noorani Seekh Kebab and Paneer Shashlik were the Starters.  The Cheese Kebab did nothing for Hector at all.  The Seekh Kebab did not appear.  The service was far from slick. Last year was much more efficient.  A plate of Salad and a Basket of Bread was set before the Chaps on the opposite side with a couple of Dips; these were passed round, eventually.  The Chaps helped themselves to the Bread, none reached Hector. Marg did manage to secure a Quarter Nan.  This was Nan?  I have had better Chapattis.   Fortunately the plate of Rice was sufficiently large that a portion did reach Hector.
Lamb Achari, Murgh Tikka Makhani, Shahi Indian Mix Vegetable Masala and Dhal Methi were the Mains.  The latter did not show for a very long time.  The Vegetable Curry came first.  Aubergine was the most evident content, this dish was pulp, very poor.  The Chaps opposite were clearly not impressed by it as half the bowl came round the table.
By the time the Lamb reached Hector, six pieces remained and three of us had to divide this.  I was not a very impressed Old Hector.  The Lamb was on the tough side, the Masala was neither thin or thick but was well seasoned.  I was not panicking, having attended this event before has its advantages.    The Chicken could well have been the best part of the meal.  I was permitted two reasonable sized pieces of Boneless Chicken, this was indeed rich in Tomato; Buttery I am unsure about.  Perhaps more would have helped.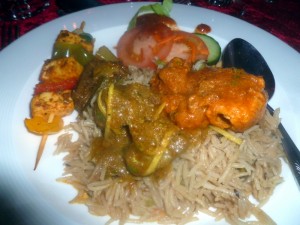 The Lentil Curry appeared.  Now Hector sees Dhal in every Curry Cafe I frequent, the locals must love this.  As I am not an eater of Bird Seed I have only ever had a Soupcon.  The Chaps were not impressed, three quarters of the dish was leftover.  I had a taste, there was Methi in this? I knew Dhal would never catch on.
Behold the Seekh Kebab and more Nan!  Most of this came around to our side as The Chaps must have been full of Chicken and Lamb.  Hassan and his Lady took some Kebab and were not impressed.  This was a combined Chicken and Lamb Mince creation.  One suspects the Chicken dominated, not wonderful and judging by what remained on people's dining plates, the table agreed.  What to do with the Nan?  There was more now than we had started with, I took a half, it was dreadful.
I have not earned the 'Hector' Moniker by chance…
When Doris came to clear away the serving dishes I asked for more Lamb, it came in minutes.
There was more than enough for one, was it all for me?  I offered it to The Chaps but they had finished eating and were off on nefarious activities.  Those beside me were full too.  This time the Lamb was hot, plentiful on-the-bone and off.    The Lamb texture was better than the two scrawny bits earlier, Succulent as printed, may be going too far.  Hector was finally Happy.
There was Dessert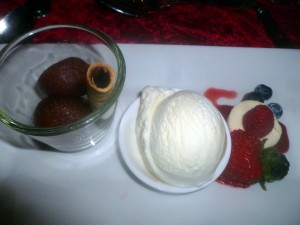 This made Marg happy.  When did Hector last eat a Dessert?  There was Ice-Cream so I was not refusing it.  Berries and a Tiny Cheesecake accompanied this.  Marg may feel this was the best part of the evening.
 The Award Ceremony Resumes
 Chef of the Year went to Jagtar Singh (Taj Tandoori) of where I know not.  His Boss told how he had worked his way up from washing dishes and then went on to give a political rant about needing more immigrant Chefs.  As one who works in education I can see an obvious solution.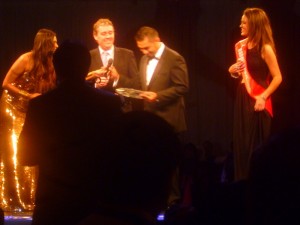 The Take Away of the Year Award went to Quismet in Aberdeen, I don't know that one.  Hassan won the regional prize for his Halal Kebab House beating The Village.  I did not see anyone from The Village this evening.
Restaurant of the Year went to the Rasoi in Lenzie.  Lenzie?  Help ma Boab.  Seven miserable years I spent trying to have a life in Lenzie.  The town had nothing.  They opened a Pub months after I left, I was twenty-one by then.  We passed the Rasoi a couple of weeks ago on our way to the Delhi Darbar in Bishopbriggs.  Now Lenzie has an award winning restaurant?  Must I go?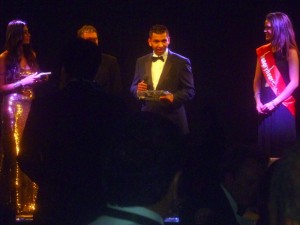 Mohamed Ali stepped up to the ring to collect his Crown as Curry King of the Year.  His modesty impressed.  From where comes he?
The Best of Glasgow went to Charcoals.  Now this was a surprise as they beat some very big names (There is hope for Yadgar yet). They are quite a modest establishment, this may benefit them greatly.  I must return for more than a passing Pakora.
 With the announcement of the final Award we left with dignity.
 The Bill (Prepaid)
£55.00 for Marg, I was on a Complementary Ticket.
The Aftermath
 As we drove off, Marg announced that she was proud of me and what I had achieved.  This was the best bit of the night.  It also looks like Marg remains willing to go on Curry Explorations – Ayr India next.
 In case anyone is in any doubt, I shall not be setting myself up for the fall again next year.  If the organisers cannot stick to their own criteria, what is the point?