Hector has not eaten at Yadgar (148  Calder St, Glasgow, G42 7QP) since the end of April, shameful.  His Curry £ has been taken elsewhere, unbelievable.  It is time to redress the balance, honourable.
'Please feed us.' was the request sent to Shkoor on Wednesday of this week.  'Goat, Beef, Camel, Venison?' was the reply.  Shkoor is evidently aware that another Glasgow Curry House, the Punjabi Charing Cross has been pioneering Venison Curry.  Camel?  Now that would be a first.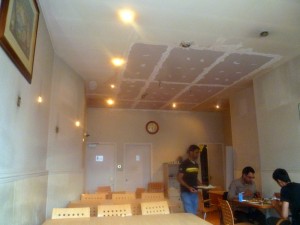 Hector arrived ten minutes early and was greeted at the door by Shkoor, Mein Host. This gave us time to catch up, and for the ceiling to be studied. It had collapsed the previous day and had been repaired with haste. We were nearly cancelled. As has been reported, Yadgar may have to close temporarily when the Housing Association get their act together and refurbish the entire block.
Jonathan was punctual, Dr. Rick arrived with [Stan.TB] ten minutes late! (Dr. Stan would never have been late.) The Complementary Poppadoms and Onion Chutney were provided along with a Green Salad. This was camouflage, the real Starters emerged from the Kitchen. Chicken had been discussed as the basis of the Starter, in what form was at their discretion. Chicken Chapli Kebab it was then, a first at Yadgar for Hector, and one of Stan's favourites.
The Chicken was not alone. Sharing the plate was a familiar foil. We had been given the Spiced Scottish Haddock that has featured on previous visits. Baked in the foil the moisture is maintained, the thick Spice Crust makes this outstanding. Two very fine Starters, how on Earth could be now do a Yadgar Main Course justice?
Shkoor brought two Karahi to the table – Boneless Goshat Karahi – the Yadgar signature dish. Jonathan prefers the Boneless version so one was for him. The other was placed between [Stan.TB] and Dr. Rick as what would follow was still unknown, more of the same? Mein Host returned bearing a Karahi which took him two hands to carry so high were the contents piled. This was presumably Goshat Karahi by the Kilo on-the-bone. But wait, there was an Interesting Vegetable, Karela was mixed in, why had this unique Vegetable been kept secret for so long?
Eight modestly priced and steaming hot Chapattis were the accompaniments. The Chaps tore in to what was beyond a Feast. Stan and Hector had no idea how we could possibly finish the mass of food in our shared Karahi. There's more.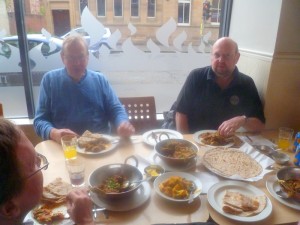 'We have some Aloo Gobi ready if you would like some.' Shkoor announced. 'Bring it on!' was Hector's reply. Mr. Anwar Sr, treated Hector to a portion of Aloo on a recent visit, the distinctive Yadgar flavour was full on, this offer could not be refused and was subsequently shared around the table. Dr. Rick was particularly impressed, he had now witnessed a method of cooking Cauliflower whereby it could absorb some taste.
Jonathan managed to polish off his Karahi, Dr. Rick appeared to be beaten but had plenty of time to nibble on as [Stan.TB] and Hector spooned more Meat on to their plates from the never ending supply. Shkoor asked if he could get us anything else, he was toying with us by now. Dr. Rick ordered a traditional Lassi. Still we ate more of this truly wonderful dish. The Lamb was absolute perfection, the unique flavours making every mouthful a joy.
Two piles of bones accumulated, the end was in sight. We ate the lot, sheer indulgence, excess of course, but we could not see this food wasted. This is Curry at its very best, and here it is served in a modest Govanhill establishment.
We had taken our time, the place was filling up, definitely the latest I have ever been in Yadgar. Kebabs and Pizza were the orders at the other tables. Some were aware of the table at the window laden with food. There was a constant stream of people ordering Takeaways. A couple eventually sat at the adjacent window table and ordered Curry. How could you come here and not order Curry?
 The Bill
We had eaten Off-Menu, we had ordered in advance and in bulk. I prepared Dr. Rick for a shock when the Bill was placed on the table. Once more I do not disclose the sum, we supplemented The Bill with a 33.33% Tip, unheard of. We know full well the value of what we had eaten, we paid what we felt was a fair price.
 The Aftermath
We couldn't leave, we had to let the food settle. Shkoor raised the subject of the Award-less Hector. He is very intelligent man, he came up with an idea that Hector had never considered: 'Why don't you start your own Curry Awards?'
Jonathan nearly fainted, why? I had made no Arithmetic errors. We need a design, this could be a sensational idea – Curry-Heute Awards for outstanding Curry, and no politics.