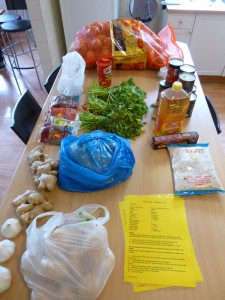 As part of the S6 Leavers' Course there is a section on Lifeskills.  What better Skill can Man acquire than making a decent Curry?  The ingredients were bought fresh yesterday from KRK in Woodlands Rd, Glasgow.  The purchase of 10kg of Onions for £2.00 was an amazing bargain; for once I could justify such a volume.  Twelve very large Chicken Fillets for £24.00 was also much better value than any supermarket – and the Chicken was the far superior Halal.  £49.63 was the total for all of the ingredients, there would be some leftover Spices.
Two years ago 5 folk signed up for the Curry Cooking Experience, last year it was twelve and with only six available Hobs, they had to double up.  Somehow twelve this year became fifteen, three spectators were permitted.  Some of today's Chefs have already appeared in Curry-Heute – the Manchester Hockey Trip – so their Curry Pedigree has been established.
The Recipe / Instructions were issued and the mass of ingredients were presented in order – the Onions would be the killer.  Twelve people peeling and chopping Onions makes for a tearful environment, the windows were hurriedly opened.  For some this was obviously their first Chopping Experience, I suggest Euan never tries to work in a kitchen.  Once the Onions, Garlic and Ginger were prepared I announced the good news – all are ready-available either frozen, or in a jar – a great time saver.
Six began the cooking process while the remaining six chopped the Chicken, Potato and Coriander.  Emily was particularly thorough, Connie was impressed by the quantity of the Chicken. Some ladies appeared to have an aversion to touching Raw Meat.  Well over an hour had passed and the Onions were a long way from becoming Masala.  The Spices and Tomato were added and the Masala was underway.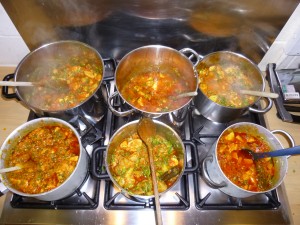 Time was against us, the Chicken and Potato forced their way into the pots.  The Potatoes were cut small, so why they took an eternity to cook could be down to the presence of six pots and no lids.  Six pots, identical ingredients, and they all looked different. 
'This is the most important ingredient in a Curry.' announced Hector holding up a red tub which said 'Saxa' in large lettering.  'What is it?' I was asked by many.  My charges did not recognise  Salt.
The Curry was not ready until well after the Bell by which time some Day Pupils had arrived to discover a distinct aroma permeating their place of residence.  Hector had prepared a Kilo of Boiled Rice, whilst the new Currynaughts prepared their Delight.
Impressed or what?
The Chefs sampled their creations; people emerged from the woodwork to satisfy their curiosity, and eat Curry!  Hector had to sample each pot – for quality control purposes.  I get paid for this?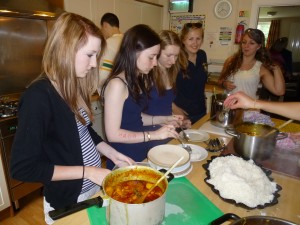 Plastic containers were filled, pots were washed, and normality was restored.  A big thanks to Rachel for helping here.
Hector awaits a comment from one of his latest prodigies…