Hector has eaten a lot of truly magnificent Curry in the past few weeks: the feast at Yadgar last Friday, Hari's sublime Venison Curry at the Punjabi Charing Cross and of course the evening spent at the Kahn's eating Zora's home cooking. Zora is the Mother of Shahed (78-80 Union St, Glasgow, G1 3QS) where Hector finds himself today.
Today Hector felt like something more down to Earth, it was also the chance to thank Shahed once more for his family's hospitality, alas Mein Host was not on the premises.
Taking a seat in the corner I glanced at the literature provided, no menu. There is no table service here either and so I approached the counter and found a menu. The displays advertise Special Offers but these are not available until 16.00. Last time I eschewed the menu and Shahed cooked me a worthy Curry himself. Today I selected the Curry closest to my norm: Shahed's Special Karahi with two Tandoori Roti at an acceptable 80p each. I opted for Lamb, of course, and ensured no mushy green Capsicum would be included. The menu gives a full description of this dish and Green Peppers are not quoted, but bitter experience has taught me to double check. I am also reminded of a Berlin menu where the waiter insisted the Capsicum would already be in the Curry and therefore could not be withheld.
The Bill
£9.90. This is an early posting of The Bill, but as one pays in advance… A can of 7Up was the liquid refreshment, no Sparkling Water.
I took my seat and watched the displays reveal an array of wonderful Dry Curry, one can hope. I had time to savour the description of my meal from the menu which I took for reference: 'Meat or poultry cooked in a Indian wok with green chilli, tomato, garlic, then served with lashing of coriander and freshly sliced ginger strips, creating a lovely dry and spicy dish.'
Shahed, My Apologies in Advance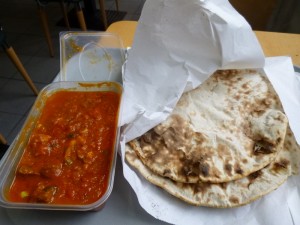 The Chap appeared with a tray – there was a large Paper Bag containing the Roti. The Curry was in a plastic container, complete with lid. Plastic utensils were on the tray along with the Can of 7Up and a straw. Hector's heart sank. Not since my first visit to Nando's in Earl's Court (their first branch?) in 1994 have I been given a Takeaway to eat at a table. Nando's have certainly changed their style and appear to be doing well.
I removed the lid, horror! At this point I could have sent it back, it was nothing like what I had ordered. But still, it is Curry and I love Curry, it couldn't be bad, after all I was not in Bamberg. That this even came to mind was unforgivable.
The Curry was red, Tomatoes were very much to the fore, I have to wonder how much Onion had been used in the Masala, perhaps none as the description suggests. The only Onion present was slices of Spring Onion which had been sprinkled after cooking. The 'lashing of coriander and strips of ginger' were nowhere to be seen. And as for 'dry', this was was far from Dry, not Soup thankfully, but I mention again the photos of magnificent Dry Curry on display.
The Clydebank Curry Taste
The Masala had a very familiar flavour, the Tomato and Spring Onion were responsible for this. I was missing the Coriander and Ginger, I had also paid the penalty for not ordering an Interesting Vegetable as a Side, but to do so would have meant ordering a separate Vegetable Curry.
The Roti were superb, piping hot, perfect thickness and texture, an excellent accompaniment. I had to search for the Lamb which was lingering beneath the mass of Masala. Although very tender, it was most apparent that the Meat and the Masala were Strangers on the Plate, sorry Plastic Container.
A couple sat at an adjacent table. When their meal were brought they were in larger polystyrene containers. I was puzzled as to the larger dish but realised that the Rice was in here too. So here comes the punchline – I have been advocating the opening of more Curry Café outlets in our City – how often do I frequent the old and tired places with tablecloths? – rarely! This venue has taken the Café aspect excessively towards the basic. On my last visit I was given a plate from which to eat. Available after 16.00?
Update 2015
This Venue has now closed.
Shahed, our acquaintance was brief, but most memorable.  Thank you.
I wish you will with your remaining outlets.