Twenty four hours in Berlin and no Curry-Heute, this had to be rectified. Today is Wedding Anniversary #9 for Marg and Hector, which some may consider a miracle – because Hector was not born until Prague -2007. All will be revealed – for those who do not know the saga – before the end of the month.
Marg had Breakfast at the Kaufhof in Alexanderplatz, Hector saved himself for a return to the Naveena Path (Tegeler Straße 22, 13353, Wedding, Berlin). The Garden Suburb of Wedding is looking better on every visit. The Block on which this modest Curry -Haus finds itself is being done up, our Pension has been let alone as the Vegetation on the Facade may well be holding it together.
A new Canopy adorns the exterior of the Naveena Path, a significant number of people were sat underneath – waiting to eat Curry! A group of four were also sat inside. We took our seats, Hector facing the action.
One of two young Serving Ladies gave us the Menus. A Laminated Yellow Sheet had numerous Vegetarian Dishes, I was tempted to have one as a Side. The Lamb Subji was enjoyed last summer, but I thought I had better keep to my own script and have Fish as I resolved to do in my last Naveena Path write-up. So – Fish Subji – it was then. This Fish dish did not mention Coconut but being a Sri Lankan Restaurant all Curry will have at least Coconut Milk as the key ingredient. The Subji promised an inclusion of Interesting Vegetables, sorted. As Boiled Rice is inclusive I considered the Solitary Chapatti (€1.50) to be an Elegant Sufficiency.
Marg ordered a Modest Poppadom and Mango Chutney.
We had plenty of time to watch the action, indeed Mein Host was being worked off his feet, no sign of his Wife who was helping out on the last visit. One of the Young Servers assured me that my Dish would be along soon, we had waited some time. Most of what was being taken outside was Chicken and Spinach. The locals may know something. The Spinach was plentiful and not the skimpy inclusion I have experienced in some Köln Curry Houses.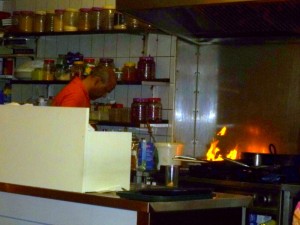 Marg's Chutney and Poppadom was brought some time after another Poppadom had been set before us. There was some concern that Marg was not eating – I had to resort to English to explain all was well.
Eventually the Fish Subji and Boiled Rice were brought in two brimming Metal Dishes. The Vegetable Array was indeed impressive save three large pieces of Capsicum. I deliberately had not made any attempt to exclude this.
The Fish tasted Fresh and was in sufficient quantity. The Rice portion was excessive – who could eat all this? The Masala was Thin and very Light in Colour befitting the Coconut Milk. There was a sufficient Kick and the Flavour was most acceptable. I could not eat this all the time but one is aware that this is the genuine food of the Indian Subcontinent, not the impersonations that too many European Curry houses serve up.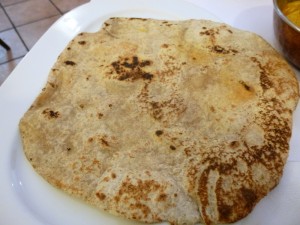 The Chapatti was a stand-out – a very Earthy taste. I was in my element – this was a most enjoyable meal. The Carrots being slightly under-done could be the only criticism.  One cannot really compare this to the Glasgow-Punjabi Cuisine that Hector is used to.  A South Indian Curry is worth experiencing, once in a while.
Marg enjoyed her Poppadoms and remarked that the European version complete with Cumin Seeds are worthy items.
The Aftermath
Normally this section comes after The Bill. Mein Host had looked across more than once whilst preparing the meal. As I finished eating he came over to enquire as to our level of contentedness. I had the Curry-Heute website set up on the Trusty HTC just in case. He had remembered us. We were offered Sri Lankan Tea but declined. Mein Host then Waved The Bill an offer we could not accept.  Leaving and paying nothing (?) so we accepted the Tea. Hector drinking Milky Tea? This turned out to be splendid, the Cinnamon and other Spices making it a pleasant experience. We continued to Chat. One of the Young Servers was his Daughter, a Singer.  The other Young Lady we conclude was neither, a pity.  A Local Naveena Path Curry Fan sat at the adjacent table – he asked for Food. Now this had a familiarity about it and so I related how I do the same at Yadgar in Glasgow.  The German Curry Scene was discussed – I did mention the Indian Mango in München and their Chettinad Cooking.
Business has been very good at the Naveena Path in the past year. There are regular lunchtime customers from the nearby offices. Wedding is an area that is coming back. Given the clean-up campaign of the last year or so this could be prove to be an excellent location. …and with Eschenbräu around the corner…
The process of internal re-decorating was under-way, there are plans to re-design the Bar area. I shall be back – in three weeks, further progress will be reported.  It was suggested that I should phone in advance and give notice of my arrival, a Special Sri Lankan Meal could then be prepared.  Ein Schöner Tag, vielleicht…
The Bill
€17.10. It was an honour to pay.