For fourteen years, Lord Clive of Crawley was the Quizmaster at the Coppingham Arms in Horley (Surrey), that was then, this is now. Having collected Marg and Hector from Gatwick at the end of their Summer Sojourn there had to be Bier and Curry. Clive had heard that a Chef from the Ram Sports Club (Crawley) had now set himself up as has happened at the excellent Downsman (Crawley). Tonight we would investigate.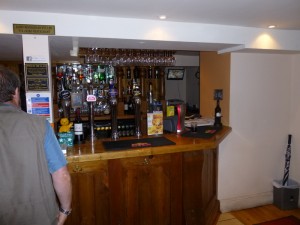 The Jai Ho at The Coppingham Arms (263 Balcombe Rd, Horley, Surrey, RH6 9EF) was a ten minute drive from Crawley. With Maggie at the wheel and the Blind-man giving directions we were there in twelve. I am assured the layout of the Coppingham Arms has changed, they had to install a Kitchen. The Bier selection was nothing great, but who cares, it is the Curry that matters.
Mein Host appeared and invited us to sit with our drinks and peruse the Menu whilst they prepared a table. He mentioned the Starters, indeed at first look at the Menu it was difficult to find the Mains, there were pages of Starters plus a Special, the Chicken 65 which was not on the Menu. As the regular readers know, Marg and Hector do not normally have Starters, but Lamb Chops we were told came in a portion of four, irresistible. On reading the Menu there was a moment of Hector alarm. The dishes were described as is customary, however the use of the term Gravy was very off-putting. Marg as ever said Gravy could mean anything, I was worried that it would mean the Bisto-Onionless creations that might justifiably be served with a Handi dish, but not otherwise. Maggie found a definition of Gravy, Vegetable Curry could not have Gravy by this definition, and so it goes…
Our drinks were taken next door by the Chap who would be our Waiter. The level of service was already impressive, it was as if they had just opened and were trying to impress. However, it was established that this was their third year of operation. The polite, courteous and attentive service would continue throughout our meal. The staff were never intrusive, they could see when something was required and then approached, sometimes waiters can be annoying, that was certainly not the case here.
Hector and Clive were having the Lamb Methi, how can we not order this when it is too rarely available? Maggie decided that tonight was the night she would have her first ever Fish Curry after years of me singing the praises of this option – Malwani Fish Curry it was then. Marg was keen to avoid Achari which amusingly was on the Menu, the safer option – Butter Chicken – was her choice, would it compete with her favourite? A Mushroom Rice, Tandoori Roti (£1.75) and Garlic and Keema Nans were the Accompaniments. The considered Aloo Saag was dropped as Starters were ordered – the Chicken 65 and the Lamb Chops. Had it been Chicken 66 I would have most certainly refused to eat it.
Four Poppadoms and assorted Dips made an appearance, we were hungry. The Starters came within reasonable time. We began with the Lamb Chops, gosh! These hit the spot, big time. I have had Lamb Chops up and down the country, these were certainly the best I have encountered. The Lamb was amazingly tender, the Spice level perfection, enough kick but not so excessive as to make the Ladies comment. One could have just kept on eating these, but Hector likes Curry, proper Curry. The Chicken 65 had a slight Patia – sweet and sour – taste, but in a more subtle way. This dish would have impressed more if we had taken it first, next time we will know better, however it was also very good. More Dips accompanied the Starters, another positive.
Everyone knows, if the Starters are outstanding, the Curry disappoints
 The Mains
The Lamb Methi had Fenugreek leaves to the fore in a mix of Yoghurt. The Masala was not Gravy as we feared, but a quality thick melange. The Lamb was beautifully tender as Clive put it. This was a very good Methi but the Curry Memory still convinces me that The Ram may have been better, the comparison will have to be made.
Maggie loved her first ever Fish Curry, she could taste Curry and she could taste Fish, and what's more she felt they belonged. The Coconut content was not intrusive, there was a perfect balance.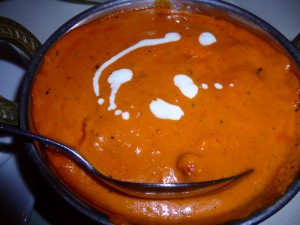 Marg's Butter Chicken was Creamy and Well Seasoned, an unusual achievement. She felt it lacked the required Kick, so when pressed to make the comparison with her all time favourite Butter Chicken source – Mother India's Café, she declined to comment.
The Nans were fine, not particularly large so when our share was running out I remembered the Roti had not appeared. This was quickly rectified. The Roti was strange, it did not immediately crisp – Half Chapatti Half Biscuit?
The Debris was minimal, we had eaten well, quality Curry, great service, an evening to remember.
The Bill
 £95.25. This is more than our normal spend but there was a few rounds of drinks included.
 The Aftermath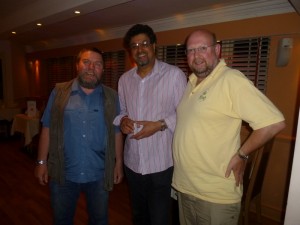 The Calling Card was received, Mein Host reappeared. He cleared up the Ram connection, it was not a Chef who came but one of the Managers. The two of them had decided to go it alone. Mein Host if I recall correctly was trained as Chef in French Cuisine. We had a wonderful chat about Curry in general – I did say I would rather eat wonderful Curry in a toilet than eat an average Curry in pretentious comfort. This somehow came out after discussing Bradford. I shall have to stand by this, toilet? Apologies to Bradford, but you know what I mean.
To balance this there was discussion of how amusing the Southerners find the Glaswegian Purveyors of Curry when they open their mouths, how did they ever pick up such a glorious accent?