Once upon a times it was the Lal Akash, now it is SWAGAT at the Ram Sports and Social Club (West Green Pavillion, Ifield Avenue, Crawley, RH11 7LX). Either way it is a venue Lord Clive of Crawley has held in the highest regard for some time.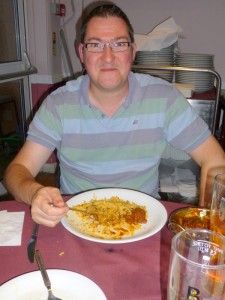 On Hector's last visit I was told I was having a Starter as a Main – the Mishkani Lamb Kebab. The Menu said it was only available at Weekends, fortunately this evening that was not the case and so Hector and Clive secured this. Marg decided a Starter would be too much, Maggie who was impressed by her Lamb Chops at Jai Ho last night had to have more.
We were joined this evening by Debs and Jim who shared a plate of Vegetable Samosa. Jim will be happy to appear in the same Curry-Heute report as his Dear Lady, no doubt his colleagues will be relieved too, they were concerned about Debs' photo in the Downsman report last summer. Who was the Scottish Guy that Debs was having a Curry with?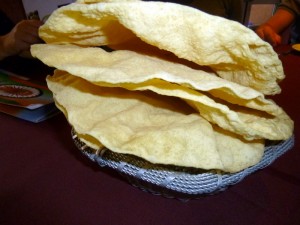 We each had to pay a £1.00 entry fee to enter the Ram Club, this was soon recovered as a round of drinks was decidedly less than on the High St. It also meant that The Bill would be food only. A Plate of Poppadoms were brought, but only five we were six. These were slightly limp. The quantity of Dips provided was the same for six as it would have been for two, why?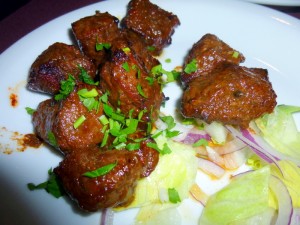 The wonderful Mishkani Lamb was set before Lord Clive and myself – a truly wonderful experience. This is the only way to eat Lamb Tikka. The Lamb was slightly chewy but this is as expected given that it was cooked in the Tandoori Oven. Wonderful flavours, dry, with the Lemon Juice adding a Citrus bight.
Maggie received five Lamb Chops, all to herself. She weighed in, Clive had to assist her, slightly. She felt they were not as wonderful as those served last night at Jai Ho, however this did not appear to impair her enjoyment. One can sense that Maggie will be having many more Lamb Chops in the months to come.
The Samosas were devoured without comment. The Junglee Bhaji made an appearance as it had on my last visit – Onion Rings and more in Batter. I only had a Soupçon, a significant Starter could limit the enjoyment of the Main.
The Mains
Lamb Karahi appeared twice on the Menu, we had to ask why. The Lamb Gosht Karahi was the Dry version, the straightforward Lamb Karahi was the Wet version. Jim and Hector went for the Gosht – dry, Marg the Masala version.
Clive ordered Chicken Dansak, I had to ask why he resorts to this less demanding dish. He feels he cannot have Lamb followed by more Lamb, why not? Maggie chose Butter Chicken and Debs the Chicken Maseladar.
Three Mushroom Rice, two Garlic Nan and two Roti (£1.25) were the Sides. One Nan was very late, Maggie insists I write that she feels the Garlic was waved over the Nan. The Roti were slightly crisp, the Mushroom Rice needed many more Mushrooms. On the positive side, the Rice portions were sufficient for two to share, as we all did.
The two versions of the Lamb Karahi were easy to tell apart. Both had big pieces of Onion – just to annoy Marg, and big pieces of Capsicum – just to annoy Hector. I should have asked.
There was a definite Kick, a very Dry Taste, I was trying to fathom out what it was that I was tasting and then I realised that was actually a Brand New Curry Taste. Jim concurred and also remarked on the quality of the Lamb. He too eats Karahi regularly and was well impressed by this dish. This was very much a Standout Experience.  (So much for having the Lamb Methi for comparison purposes.)
As expected, Marg left the big Onion Chunks and stated that she is coming round to my feelings on Capsicum – what are they doing in a Curry? – they do not belong!
Clive boasted that he has had Chicken Dansak hundreds of times and this one made him take note. If I thought his Dish looked like Lentil Soup, Maggie's Butter Chicken looked like Cream of Tomato Soup. She enjoyed the Chicken content ans stated that she could actually taste a Chicken flavour, but realised herself how ridiculously Wet he meal was, she left half a pot of Masala.
Debs assures me her Maseladar was Spicy, with a Kick and very palatable. There we are, six Curry reviews and the N-word avoided, Nice.
The Bill
£76.28. Between six, this is exactly what one normally pays per person without Starters, so very good value for money.
The Aftermath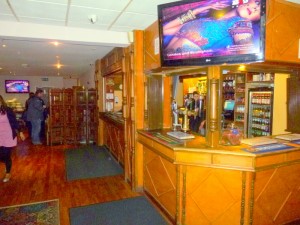 The Swan was calling (Happy Birthday, Sophie) and so there were no Afters. Maggie made sure somebody received the Calling Card. The Chap on the door did tell me that they are planning a complete overhaul of the building.
And SWAGAT?  Welcome is the best translation I can find.