Curry in Berlin, Prague, Budapest and Crawley, yes Crawley. There will be more Dan Sath (sic) Adventures in September, meanwhile Hector has returned Home to refuel. Berlin and Prague will be visited again, soon.
If there was to be one Glasgow Curry in my brief Glasgow Stopover it would have to be to Yadgar (148  Calder St, Glasgow, G42 7QP), a modest Curry House on Glasgow's Southside which just happens to sell the most wonderful food. For those who like numbers, one may notice that this meal makes Yadgar my most visited Curry House, anywhere, since the start of the Curry-Heute Website.
The order was sent by text last evening to Mein Host who acknowledged within minutes. Goshat Karahi, Boneless for a change, as Side of Vegetable Curry and two Chapattis. Enough for any man.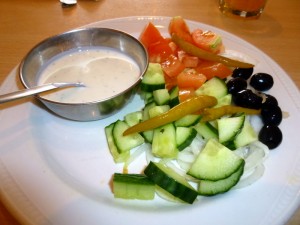 I arrived at the arranged time, 15.00 and was acknowledged by all the Staff, it is over a month since my last visit. My Soft Drink was brought and a Starter declined. This did not prevent the presentation of a Salad which made me smile. Chopped Tomatoes and Cucumbers, Onions and Black Olives, a Dip, where was the Falafel? I enjoyed a tasty Falafel in Budapest at the start of this very week.
It is now Ramazan, once again Hector was the Lone Diner. Two mature women sat and waited for a Takeaway, one mentioned Karela and described it to her friend in its natural state. Then she announced that she loves its dry, bitter flavour – Yadgar is one of only three Glasgow outlets which Hector knows supply Karela.
The Mains lo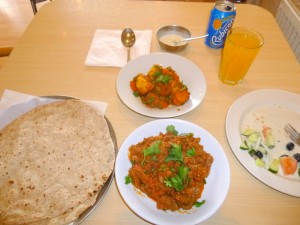 oked perfect. The Lamb had been cut small, there was virtually no Masala, the dish was seriously Spiced – a Curry prepared in the Bradford-style and presented in a quantity for for a King. The Side is also something very Special. A sample was given to me in a recent visit, it has changed how I eat Curry, now I always consider this as a means of guaranteeing the Interesting Vegetable. Potatoes, Carrots and Peas, once more in a Minimalist Masala, but packing the distinctive Yadgar flavours – a must. The two Chapattis now felt excessive, perhaps one should suffice given that they are full-sized versions.
 The Bill
 £12.00. A modest sum.
The Aftermath
As mentioned in earlier reports,the premises suffered a roof leak a few weeks back. Redecoration is under-way, new wall lights have been installed and a TV wall bracket, oh no… Some new Artwork adorns the walls, including Jerusalem, which happens also to be an excellent source of Falafel. That was an unexpected punchline.