Today is officially Hector's Fifth Birthday, there was even Birthday Cake!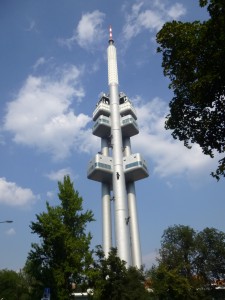 The Hector Saga began in Prague in 2007 on the Summer Trip to celebrate Robin's 60th. On the Sunday lunchtime those of us who had abandoned our plan to visit the town that was famously erased from the map, caught up with the others at U Sadu, a Pub in a residential area a stone's throw from the ubiquitous Praha TV Mast.
As the conversation developed Hector felt obliged to tell the assembled company the short tale of how in his junior years at Secondary School there was a Hector's House Fan-Club. The honour of being President was on a rotational basis, hence Hector can claim to have President of the Hector's House House Fan-Club.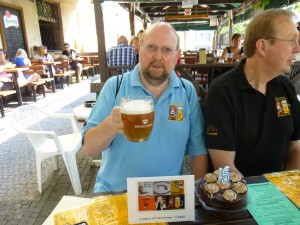 To say this caused some hilarity would be the understatement of the Trip, the Year, the Decade. After the initial burst of laughter died down, Craig and Bernard were still affected, they ended up in hysterics, Craig almost on the floor in pain. Yvonne had never seen Craig react in such a manner. What had been notionally Tonto's Totally Tantalising Tours at Traben-Trabach, Titting, Traunstein, Tegernsee et al instantly became Hector's Horrible Holidays.
The next morning, Jonathan came down to breakfast with the Hector's House Theme tune on his phone. That was it, the name stuck, the following year in München having checked into the Hotel Royal I came downstairs to find everyone wearing a Hector's Horrible Holidays t-shirt. Since the first Hilpoltstein visit the following year we have become more sophisticated, elaborately embroidered Polo-Shirts are now the norm. The organiser of the Trips remains The Hector, it is I, the Perpendicular Pronoun.
And so it was necessary for us to revisit U Sadu where we had Birthday Cake. Thank you, Yvonne. This was the first time Hector had ever tasted Cake of any description, Hector eats Curry.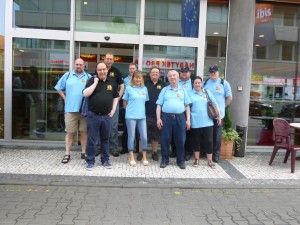 'Tram 9 will drop you near the Curry House.' claimed Ricky as he Stan and Jonathan headed elsewhere. This was quite a claim as the Man from Bradford does not eat Curry abroad. He knows the quality cannot match that served in our Special Places, so he certainly had no idea where Hector was headed. Seven of us were up for Curry-Heute. Tram 9 dropped us at Mustek, this meant a walk from Wenceslas Square beyond Narodni, there were Protests, I think the Company was Tired.
Howard, Neil and Hector led the way, there were four unhappy fellow-diners as we took the largest table at the Royal Bengal(Vejvodova 4, Prague 1) . We had the choice of any table, we would be the only diners. 21.00 on a Thursday night, maybe the people of Praha don't do Curry on a Thursday. During our lengthy stay two other groups came into the Restaurant, took their seats then left. Mags who had by now been in Praha for some thirty hours announced that the prices here were well above the norm for Prague. The price is the same as one pays at home, in Prague only the Bier is cheap.
It was the same Doris who had served Marg and Hector some two weeks previously. She is a quiet Lady with adequate English. Working the Front of House alone may be sufficient when the place is this empty, one felt that a bit more energy in the Front of House would attract more custom.
Robin was not hungry, a Chicken Pakora would do. Mags and Yvonne chose something form the basic Curry list, Lamb Madras and Chicken Curry respectively, was this wise? Neil was more adventurous and selected Machi Makhani, this would be interesting. Craig ordered Lamb Balti whist Howard chose what the Hector had on his previous visit – Lamb Korai. This time Hector went for the Lamb Bhuna (without!), would it be as Dry as promised? Boiled Rice, Vegetable Rice, Nan, Chapattis were ordered, I suddenly remembered the Aloo Paratha was good, Howard followed my lead. An array of drinks came, Still Water from a metal jug being the greatest in demand, no Sparkling Water.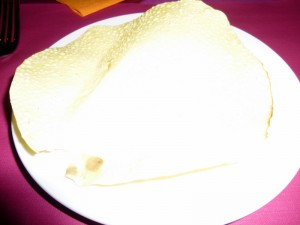 Complementary Poppadoms were brought along with a Minty Raita, then began the wait. We could here someone in the kitchen busy at work a solitary Chef, no doubt. after an age Robin's Chicken Pakora arrived. This was impressive with freshly sliced Tomato and Cucumber as well as the Onion Chutney that must be unique to this venue. What Robin did not finish was devoured by the far end of the table. The Tired were now Hungry. The wait resumed, patience was strained. We watched others come in and then leave.
In the midst of all this, Doris came and asked who was having The Balti. Craig identified himself: 'Do you want it with Spice?' He replied: ' Without.' This cheered him up no end.
Finally, seven warm plates were set before us, there was hope. 'I remember now,' I said, ' ..after the warm plate was brought on my last visit I only had to wait another hour…' Nice to be nice.
The straightforward Curry disappointed on sight, two Bowls of Soup. Neil's Fish had a thick Creamy Masala and so looked the part. Craig's Balti, Howard's Korai and Hector's Bhuna all had possibility. The Vegetable Rice looked good, both Rice portions were enough to share. The Nan looked peelly-wally. Behold The Paratha, 'Is this for two?' I had to ask, no another was to come.
The Lamb Bhuna was slightly sweat but was full of flavour. The Spice content was fine. The Masala was minimal but there was an excess of Onion Strips, fortunately I had remembered to have the inevitable Capsicum withheld. Hector was having his Curry-Fix on his Birthday.
Howard's Korai did not look too dissimilar to my Bhuna except there was abundant Capsicum. Howard described his meal as – a decent Curry, not too much sauce, and an excellent Aloo Paratha.
Neil's Fish Dish had an appropriate texture, however he stated that the Fish was not as tender as one would have hoped. Fish Curry must be the easiest of all to prepare, what had they done, reheated it in a microwave?
Yvonne was not impressed with her Curry, she noted the complete lack of Onion in the Masala, this was classic Shorva and is exactly what one can expect to receive if one orders from the Basic Curry List. Mags Lamb Madras fared no better, it was not what she gets at home. The Nan was intended as a tool with which to eat her meal, this proved impossible and so some of the surplus Rice was utilised.
Craig was in Curry-Heaven! His Lamb Stew was exactly how he wanted it,not Spicy at all. The texture was fine, had he ordered it as I would have, this appeared to have the makings of a good dish. As Yvonne said, it says a lot about the place when Craig is the Happiest Curry Eater.
The Bill
2518 Kc = £77.38. Allowing for Robin's Stater only, this is what we would pay at home.
 The Aftermath
Hector was halfway out of the door when we were called back. Somebody had put an old 50Kc note in the bundle, nobody owned up, it was not I. In the end they waved us off, after all the Tip was more than 50Kc, how could they complain?