Hector finds himself at the halfway stage of the saga known as Hector's Heroic Homecoming.  We are back in Deutschland, some familiar places will be re-visited, meanwhile Passau is a brand new experience.
The rendezvous at Bollywood (Ort 9, 94032, Passau) was at High Noon. The Restaurant is at the end of the labyrinth of streets that make up the Peninsula between the Confluence of the Inn and the Donau. We entered just before Noon, the first customers of the day. Howard and Hector both had Fish Curry on their minds.
The Menu had Shorba as a Starter under Soup, so there was hope that they recognised the difference between Gravy and Masala. Hector ordered the Fish Vindaloo, Howard the Bengali Fish Curry. He could have ordered the same but felt that we should experience both, for the sake of the Blog. Howard is taking things very seriously, there may be a sense of falling on the sword.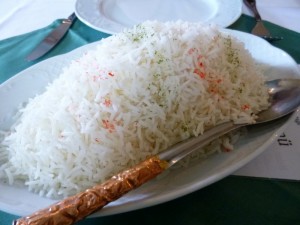 Ginger Nan, now there is something one does not come across everyday, it had to be sampled, once more in the interest of balance, Howard ordered a Plain Nan. Basmati Rice was included with the meal.
The young Waitress seemed to be as happy speaking English as she did Deutsch, the Menu was written in the language of Curry.
Two half litre glasses of Soft Drinks were a welcome refreshment whilst we waited. The wait was not long.
The Fish Vindaloo had a thick Onion-based Masala. The ratio of Fish to Potato to Masala was perfect. The Masala was well seasoned so the flavours came through. There was a decent kick without being excessive. The Ginger Nan was covered in slivers of Ginger, the taste did not hit the Curryspondent for a few moments, then there was a blast.
This was a very good meal indeed, the quantity was perfect for what was in effect, breakfast.
Howard had looked at Hector's Curry with a slight envy. His Curry lacked the Potato and did not appear to be as wholesome. Howard described his Masala as Korma-like. Having sampled some of mine, he felt the Masala did not have the depth of flavour that the Vindaloo contained. He pronounced that this was a perfectly acceptable Fish Curry.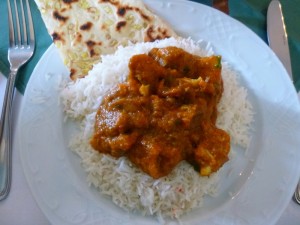 The Plain Nan was, well Plain. Given the quantity of Rice we could not eat everything. The Curry of course was demolished.
The Bill
€33.70. This is well within Acceptable Parameters.
The Aftermath
The Calling Card was received and the International aspect was explained. Of course the term – Curry-Heute – means more in Deutschland than it does at Home. The Waitress asked if we could get Spices? At first I thought she thought we did not know what constituted a decent Curry. Later I considered that she may have thought I might be able to supply them. Fresh Coriander and Methi perhaps?