If ever there was a tale to be told…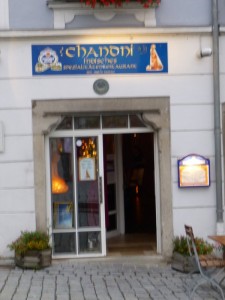 When Howard declined to eat when the others did at Hacklberg, his intention was clear, he would be joining Hector for further Curry-Heute! Lord Clive invited himself too. Bouncing off both the Donau and the Inn, Hector lead The Chaps in a circuitous route towards the end of the Peninsula.
The Chandni (Michaeligasse 4, 94032, Passau) is one of two Curry Houses in this picturesque setting at the very South East corner of Bayern. The Border with  Österreich is about kilometre away.
There were a few Fellow Diners, so business was doing fine at 22.00 on a Sunday evening.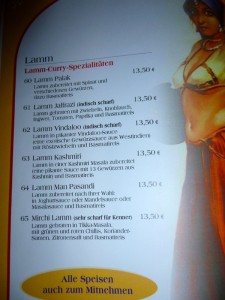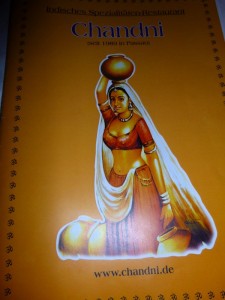 The Menu covered a reasonable array of choices, Karahi and Balti Dishes were not mentioned.. This evening, Hector and Howard had Lamb on their minds.
Pakora featured, quite unusual outside the UK, we had to try this, one portion to share was ordered.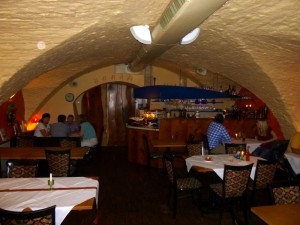 The Lamm Vindaloo was described as featuring Onion, so I asked Doris #1 if there was Potato with it. She pointed to the Lamm Jalfrezi and showed that it had Potato. I pointed to the aloo ending of Vindaloo and explained, this means Potato. Que? I decided not to add that Jalfrezi is an Onion rich dish, normally. So Lamm Jalfrezi it was then, and hold the Capsicum. We were communicating, I think. Howard chose well, he went for the Lamm Palak. No problem. Lord Clive chose Murg Vindaloo, which contradicts the explanation for eating Chicken that he gave in Crawley last week, he had not eaten Lamb today. We thought a single Nan to share would not be excessive, the Basmati Rice was included.
The Pakora was brought by Doris #2 whose English was perfect. I would congratulate her later on speaking without an accent. The Pakora was a joke, four flat pieces of Vegetable, two Mushrooms and two slices of Aubergine in a light Batter. Strictly speaking, I suppose Pakora can be anything the Chef wants it to be, this bore no resemblance to anything originating from the true Home of Curry, Great Britain. They charged €3.00 for this, profits must be healthy.
Doris #2 came back with the Menu, they only had enough Lamb left to provide one portion of Curry, would one of us have something else. I insisted that Howard have his choice given the sacrifice of earlier in the day, once again he insisted that as the Curry-Fuhrer, I must have what I ordered. Chilli Suwer was Howard's #2 choice, a Pork Curry with Vegetables with a promise of Spice. Pork Curry is a rarity in the UK, one can understand why the majority of Glasgow and Bradford Curry Houses do not sell it, but those who do have India-proper connections should really offer it, after all they do sell Beef.
It's Curry, Jim – but not as we know it…
The Chilli Suwer and the Murg Vindaloo arrived first, along with A Big Tureen of Boiled Rice and a Cardboard Nan. Most of the Nan was left, it was not edible. We should have ordered one each, not.
Clive's Chicken Curry was a classic Shorba, thin and as Clive remarked: No Onion had been harmed in the making of his Curry. He said it was a very pleasant meal but quite simply it was not Chicken Vindaloo.
Howard's Chilli Suwer was very much a Stir Fry, so technically not a Curry at all. There were Strips of Pork but they were greatly outnumbered by the Vegetables, Capsicum being to the fore. This would never have been my choice, but it wasn't really Howard's choice either. To quote Howard – If I had found the Curry I might have enjoyed it, but it was a Stir Fry, not a Curry. The one reason I came to Passau was to try the Lamb Saag.
I don't believe it…
Hector's Curry was the last to arrive, Doris #2 came out of the kitchen bearing the gift. She then retreated and emerged a moment later. What she brought was not Lamm Vindaloo, it was not even the expected Lamm Jalfrezi, it was Lamm Palak! I  offered Howard his original choice back, not that I wanted to eat what he had, but once more Howard insisted I have the potentially better dish. It was destiny that the Lamm Palak was coming my way. Keeping a straight face was impossible, if our Fellow Diners were able to follow the proceedings they would have understood the hilarity at our table. Howard bit the bullet, em Vegetable.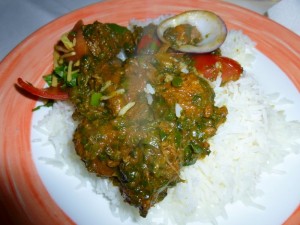 The Lamm Vindaloo, sorry Jalfrezi with Potato, sorry, Lamm Palak was served absolutely dry. The minimal Masala was on the Bradford scale, things were looking good. The flavour was wonderful, they had mixed just enough Spinach to make it as described. This was not the normal Meat in a Sea of Spinach Soup, this must stand out as one of the best Lamm Palak's Hector has encountered, the Lamb was in large pieces, very tender. The seasoning was exactly how I like it, the flavours emerged, the Spinach did not dominate, a very well balanced dish. I only wish I had ordered it.
Howard was not a Happy Chap.
The Bill
€48.50. The error had been acknowledged when the wrong Curry was presented. Time to negotiate. Doris #1 was authorised to reduce The Bill to a more acceptable €45.00. There was no Tip.
The Aftermath
The Calling Card was the last thing this venue needed. Their Menu has errors, they do not appear to understand the basics about what they are presenting. The communication between the Waitress and the Chef needs improvement. How does a Restaurant run out of Lamb? The Curry, well two, was thoroughly enjoyed, pity we only had the two, we ordered three, or four, or…