Hector's Heroic Homecoming has returned to a familiar location, Nürnberg is our base for the next three nights. The Tin-Tinerary stated that there would be an Erlangen Curry for those who made the rendezvous for the 11.42 train north. Howard, Lord Clive and Neil signed up for the challenge of eating what is the Saltiest Curry Hector has ever experienced. The Curry House (Helmstrasse 11, 91054, Erlangen) is a Curry Schnell Imbiss, there is no ceremony, one orders from what is on display at the counter and pays up front.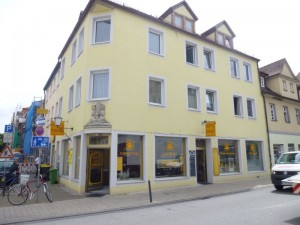 We arrived at Noon, people were already ensconced. The Mutton Subji appeared to be the best Curry on offer. This would guarantee the inclusion of Seasonal Vegetables. Hector did spot the Dal that has impressed in other European Venues in the past week, alas the appetite was not up to this today. Three of us had been to the Annafest yesterday, today would be a day of relative relaxation.
Ordering four of the same must have made it easier for the Chef, we were summoned back to the counter to collect our meals.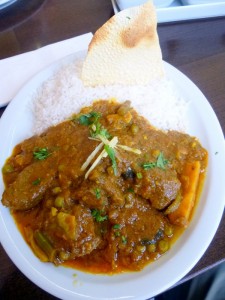 As was the case on my last visit, the meal included Rice with a piece of Poppadom for good measure. This could,if one chose, be eaten along with the Onions and Dips already on the tables, not today.
The Masala was the classic old fashioned Onion-rich style from years back. The Lamb was so tender, this Curry had been cooked thoroughly. The array of Vegetables included Peas, Cauliflower, Green Beans and even Cabbage, a first.
The main feature of this Restaurant is the sheer level of Salt in the meal, it is at the limit of what is acceptable, I would rather it this way than bland any time. Clive demolished a full litre of water during his meal, maybe this is why he was finished first. Today I was as slow an eater as Neil, the volume of Rice defeated me in the end.
By the time we left, every table was occupied, people even joined strangers.  This is a very popular Curry House.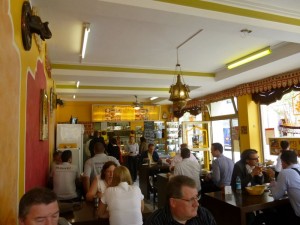 I felt The Chaps had to experience this, there were no complaints. It will be interesting to see if anyone ever suggests a return visit.
 The Bill
 €11.40. We each paid individually.
 The Aftermath
On arriving at the Kitzmann Brewery I ordered a half litre of Orangeade. I was seriously thirsty.