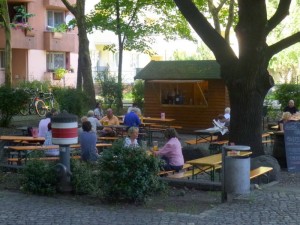 The last thing on Hector's mind as we checked into the Pension Regine Braun once more, was Curry-Heute. Later, perhaps. After a five hour Train Journey from Nürnberg to Berlin, Craig and Yvonne were hungry. They fancied a Curry before returning once more to Eschenbräu, the Naveena Path (Tegeler Straße 22, 13353, Wedding, Berlin) was en route. The Law of Curry is simple, one cannot suggest a Curry then back down. Hector could not let Craig and Yvonne eat there alone. Robin went straight to the Brewery, Howard, Mags, and Lord Clive joined the Three.
Arriving on 15.00, Mein Host was sitting taking a break, no doubt after the exertions of Lunchtime. Six more customers entered, for the first time Hector was acknowledged immediately. Well after three visits in as many weeks I should hope so.
Does Chicken Curry?  Of course not…
Hector decided that today was a good day to make a major departure from The Norm – I would have a Chicken Curry – The Saag. This left the field wide open for Howard to choose well, Fisch Curry then. Yvonne selected Chicken Chilli, Clive the Chicken Special and Craig the Chicken Tikka. Only Mags stuck to our traditional standard and ordered Mutton Khumbi, whatever…
It was a hot day and drinks were not forthcoming. A boy was behind the counter, I asked for the normal Sparkling Water – Wodka? His services were dispensed with and Mein Host took charge. Meanwhile his able assistant was put to work preparing six Curry dishes for simultaneous presentation. Simples?
The Rice would be inclusive, four Chapattis were added to the order.
The Chicken Saag was remarkably like the Mutton version, but with… The Spinach-rich Masala was quite Creamy too. The occasional blast of Fresh Ginger gave it an edge at times. As for the Chicken, well it was Chicken, which does not Curry in my book. This is what I felt like, this is what I had. Normal service will be resumed.
For once, Howard appeared to have scored the best deal. His Curry looked interesting, there was a significant Fish portion, however the Masala was runny as one would expect in a Sri Lankan Restaurant.
Yvonne's Chilli Chicken looked like a Plate of Soup. It was not Spicy at all, indeed Yvonne questioned if Chillies had been added. She remarked that: there was no heat whatsoever.
Mags enjoyed her Mutton Khumbi, however she did not appreciate the presence of Aubergines. If one orders a Curry with Vegetables one is at The Chef's mercy.
Clive was given a splendid Sizzling Platter and then had it removed and placed before Craig. This was just as well, Clive would have eaten it. This was the Chicken Tikka, it was Red and had lots of Onion, some even Raw, and Capsicum. This is not a Curry in Hector's Book, nor was the Chicken Special according to Clive. His meal was a definite last to arrive. The Menu promised Nuts and Raisins, none. Clive described it as: The Mildest Curry he has ever been served.
One is not trying to make out that the Naveena Path makes a Curry that will ever make one go – Wow, perhaps they could with notice. This is an honest, Back-street Café which just happens to be metres from our front door in Berlin. Nobody has had a bad experience, all have made positive comments.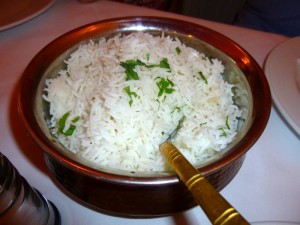 The Bill
 €57.50. The Four Chapattis were declared to be Free – as Chapattis should be everywhere!
The Aftermath
The Naveena Path now qualifies for it own Web Page on Curry-Heute. There have been sufficient visits and an array of dished selected.
We strolled around the corner to Eschenbräu and joined Robin. That was it for the rest of the day, tired or what?