One recognises excellent service when one witnesses it, the best example today was on the City-Link Gold Bus from Glasgow to Aberdeen this evening. Doris plied her Charges with firstly Ice-Cream, followed by Sandwiches, Coffee, more Sandwiches and finally Sweeties. Hector was refusing food so as to maintain the appetite for the promised Curry at the Nazma Tandoori (62 Bridge St., AB11 6JN, Aberdeen).
The first two examples of poor service today were at Berlin Schönefeld, yes Hector's Heroic Homecoming has finally come to an end. The easyJet Check-in Lassie was more interested in chatting to her off duty colleague than serving the customers. Due to a foul up with the luggage conveyor we all had to stand and watch her flirt ad nauseum. At no time did she look in our direction to make any apology, or even explanation as to the problem. When Hector reached the front of the queue there was no eye contact during the entire process, her conversation went on uninterrupted. I could have been carrying anything, no security questions.
In what passes for a Departure Lounge at this soon to be demolished Airport I ordered an Ersatz Pizza in the Cafe. The heated Bread was put on a small cardboard tray, some of it overhang, it was placed on my hand, I dropped it immediately. I suppose one could sue when one is burned in a scenario where one is burned. I just wanted to get home. Howard and Mags muttered comments as they joined me, Robin gave up in disgust.
The Nazma was chosen this evening because not only is it close to Aberdeen's Bus (and Train) Station, it is also a venue where I have enjoyed very good Curry over the past fourteen years of regular visits.
 You must know what's coming…
Despite being quite empty, Marg and Hector were squeezed on to a table for two. The Lamb Bhuna and the Green Herb Curry appeared to be similar, the latter has tended to be my choice over the years, though the former mentioned Methi. I asked the Waiter what was the difference, he muttered something about Green and Herb. I was now none the wiser. I asked if they had Fresh Methi, this was confirmed: One Lamb Green Herb Curry with extra Methi was the order. Marg went for the Shahi Lamb Rogan Josh. (I know, I recorded it as she ordered it.) Marg asked for it without Capsicum. At first the Waiter denied that any Capsicum would be in the dish. When he was shown the list of ingredients in the Menu he came out with the immortal quote I have only ever heard once before – ironically in Berlin! 'The Capsicum will already be in…' Aye right. This prompted me to chip in with a further declaration. My Curry does not mention Capsicum and so I do not wish to see a single one on my plate.
A Vegetable Pilau Rice and two Chapattis (£1.10) to share were the Accompaniments. Marg considered just Chapattis but feared the Masala may be runny, and so Rice it was.
We were offered Poppadoms and Dips, there was no mention that this would be £1.90, oh, we are in Aberdeen. At least tonight the Chapattis were not a rip-off.
We had only finished our Poppadoms when the Mains arrived, a bit too quick for my liking. The Waiter started to serve the dishes, I asked him to stop, the Ritual Photography…
The Lamb pieces in the Green Herb Curry were larger than one might expect. The Lamb was not wonderful, I have had much better in recent weeks elsewhere. The Masala was halfway between thick and thin – medium! The flavour was awful – Antiseptic is what came to mind. The Curry was edible – just. Having declined the majority of Nibbles on the Bus, I was hungry. Hector was not impressed.
Marg fared worse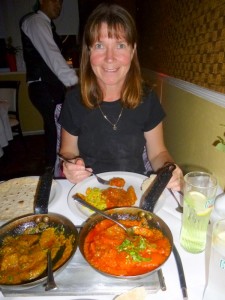 What sort of Meat is this? Marg asked as she spooned her Rogan Josh on to her Rice. It was Chicken. The Waiter was summoned. How can you serve Chicken in a Rogan Josh? I enquired? They wheeched it away, an Aberdonian expression too, apologised and moments later a Lamb Replica was presented along with another Bowl of Vegetable Pilau Rice. They even offered a fresh Chapatti. The offer was appreciated but felt unnecessary.
Marg also noted the massive size of the Lamb pieces, having sampled a bit, her Lamb was more tender than mine, slightly.  Marg felt the Masala was too runny and lacked something special.
The Curry at Nazma used to be distinctive, this is no longer the case.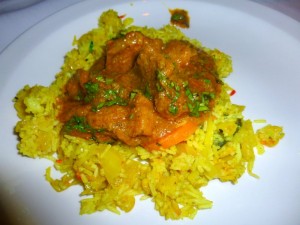 Assuming we would be retiring to an Aberdeen Hostelry, Marg announced she wished Coffee. For the record, there is not a Bier in the whole of Aberdeenshire that will interest Hector this weekend. She asked for Milky Coffee, as in Coffee made with Milk. She was brought the flask of Black Coffee with Cream on the side. The Waiter asked – How do you like your Coffee? – as he poured the Black Liquid into the Cup. Useless.
The Bill
£34.05, allowing for inflated prices in this city, not bad.
However, this is where the truth behind this evening is revealed. (When I get home I will scan it and put it up for all to see.) One Chicken Rogan Josh (Not Capsicum) is what was recorded, nobody mentioned Chicken. Where was the Shahi as their Menu describes? One G.H. Lamb (Lots of Coriander). Hector's taste buds had been expecting the dry-bitterness of Methi, the Coriander had been sprinkled on top, uncooked. Surely cooking some of the added Herbs into a Curry is not beyond them. Maybe there was no Fresh Methi in the Nazma Tandoori.
The Aftermath
We left without comment. Berlin to Aberdeen, I was too tired to take anyone on.
I shall not be rushing back and I now have to remove them from my list of Recommended Aberdeen Curry Houses.