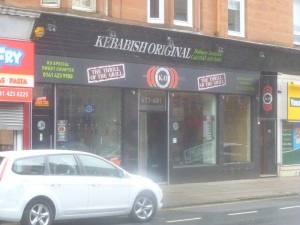 Two months after our last mass Takeaway from Kebabish Original (677-681 Pollokshaws Road, Glasgow, G41 2AB). The same order for Sixteen was placed by Craig and Yvonne, once again our Hosts. The Bier Today was Pyraser Landbier and Keesmann Bock. Marg was making a rare appearance at a Barrel Party whilst Simon and Kirsty were making an inaugural, but too brief,  appearance.  The Duke of Hamilton was back for more.
The Delivery Chap arrived punctually, Hector decided to assist in the opening of the large meal parcels. As luck would have it the first bag I opened contained the Lamb Karela and so with a generously sized Chapatti and a piece of Chicken Tikka, I retired to the garden. Howard followed close behind with an identically composed platter. It was good to see Howard finally get his first choice of Curry. He has missed some splendid meals in the last few days however.
Marg took a selection from the array of available meals, this I am informed was the pattern followed by the majority.  Ricky (I'm having a Fish Supper) and [Stan.TC] were also on Curry for the fourth consecutive day.  Bring it on.
Dr. Rick enquired about the Karela, this version was nothing like that enjoyed so much last evening. The Masala was still Sweet, only on biting into the Sliced Vegetable was there any sense of Bitterness.
The appetite sated I returned to the kitchen to check on the progress of the others. There was still plenty left for Neil, our late arrival. Loadsa' Chapattis, Pakora of differing varieties, Curry for All, Simples. Yvonne soon came to realise that her Rice for Fifteen was not required.
The Bill
As the order was the same I assume the price was the same – £8.00 per head. £128.00 is what I deduce the total to have been.
The Aftermath
Craig was seen in the kitchen hoovering without his Dyson. The Chicken Tikka was very much to his liking and there still appeared to be plenty of it.