This is an Historic Day for Curry-Heute – Hector finally gets to meet John, The Bradford Curry Blogger. We have been trying to make a rendezvous since the launch of the Bradford Website. Ironically John has often been in Glasgow whilst I have been down in Bradford. This would be a meeting of like minds.
The International (40-42 Morley Street, Bradford, BD7 1BA) is one of Bradford's finest Curry houses, so where better to meet. It also opens before Noon, though Hector now knows that the Sheesh Mahal opens every day now at 11.30, an excellent strategy.
Parking in the usual spot in Wilton St, Hector was a few minutes early. The table was secured and the Complementary Poppadoms and Dips were set out. John and Family were punctual. John had shown up with wife – Lynda, father -Tony, and daughter – Izzy. John remarked that he found it strange to hear me with a Scots accent having only ever read the words and heard them in his head. There was a definite air of familiarity originating from the many photographs that have been published on T'Internet in the name of Curry.
Down to Business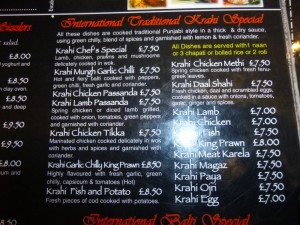 The Lamb Karahi Methi served in this establishment is possibly the best Curry I have ever eaten, so the level of expectation was high. On my last visit in February, the Lamb Desi disappointed, so they are human. John chose Lamb Achari, Lynda went for Lamb Spinach Balti and Tony a Chicken Bhuna. A plate of Chips was ordered for the Young Lady. One Nan was ordered, the inclusive Chapattis were sufficient for the majority.
There was time to discuss our origins as we waited for the food. Bier raised its head, indeed both John and Hector write in other Blogs, though John's Cycle Blog is far more energetic than Bier-Traveller.
When the food arrived I was straight into Hector mode taking notes and of course photographing everything. No photos, no Blog. You have my permission to start.
Some of The Chips were eaten
The Lamb Krahi Methi was Dark and Thick, the Methi Leaves were doing their job. The Masala had the expected Bradford Curry Flavour but the Wow-Factor did not happen. One or two of the Lamb pieces were more chewy than one would like. Scooped with the excellent Chapattis this was still a very fine meal but I have had better at this establishment. Perhaps this early the real Chefs are not yet on duty.
Lynda's Bucket of Balti looked the part. She described the Lamb as being Tender and there was plenty of it. There was a slight excess of Oil.
Tony has eaten much Curry in his life but cannot really distinguish one place from another. He should start a Blog. His portion did look smaller than everyone else's, or is that just the vivid memory of last night's Feast still strong in the mind?
John described his Achari as not being as Sour as he has had here before (I don't know if that is good or bad) and found some of his Lamb to be somewhat Fatty.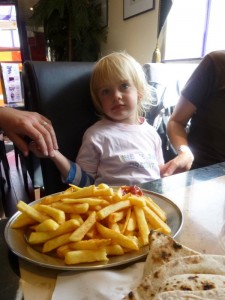 The Bill
£31.00. How can four dine this well for so little?
The Aftermath
The Photographic Ritual was continued outside and we made our fond farewells. Next time Glasgow, and not a mainstream outlet – a better one.
Ricky is already in Rotherham watching Football, it is a sell-out. Hector will mosey down later for the main purpose of this weekend – to see Grey Lady Down at Rotherham-Maltby.
Now what shall I have for my evening meal, and where should I have it?