Jamie and Dr. Alan convinced Hector that a Bier at The Sir Henry Bell was a good way to end the week. There was a promise of Curry too, but where? The Akash (Helensburgh) is reportedly closed though Hector was told it was open for business as usual. Apparently there is a sign on the door stating – Closed for refurbishment. The discovery of Illegal Aliens working in the kitchen and a Hefty Fine is a piece of information that has also come Hector's way. Hopefully normal service will be resumed soon. Helensburgh needs the Akash.
The Delhi Darbar in Dumbarton is the Best Curry House, Anywhere – Jamie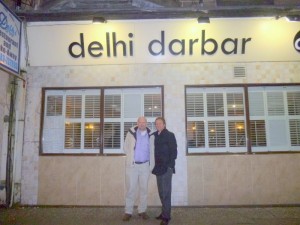 Marg joined us after her Friday Coffee Ritual, a plan was hatched. If Jamie really thinks Delhi Darbar (151 Glasgow Road, Dumbarton, G82 1RH) is that good then Hector was make another visit. This has been a stop off point for many years after late nights at work. The Takeaway Pakora is legendary. My last visit was exactly one year ago today! – a Takeaway Lamb Karahi, it was nothing special. So Jamie's credibility is on the line then.
Arriving around 21.00 the place was doing well. Has the décor been changed since my last sit down meal here which was certainly more than two years ago? With screens separating the tables and tablecloths, this venue has markedly different ambience from the Curry Outlets in Bradford where my last four Curry Experiences were recorded. Evidently, this is also one of the handful of genuinely Indian Restaurants in the West of Scotland.
A charming Doris took our drinks order, Water all round save one. Marg prevented me selecting the Lamb Karahi by spotting the Lamb Meti Gosht in the bottom right corner of a page. Lamb – Gosht? Redundancy. Meti – why not Methi? I asked for it to be served Dry and Medium with a Kick and no Capsicum. A Garlic and Coriander Nan felt like the perfect Accompaniment this evening, Hector is still Chapattid out. There was a suspicion that Doris had not recorded the order correctly, time would tell.
Marg chose the fated Lamb Karahi which one year ago failed to impress. She included Chapattis which were available at an acceptable 60p – why pay for Chapattis? Dr Alan went for Kashmiri Chicken with Peshwari Nan and two Chapattis. How much Bread can a man eat – well he is a youngster. Jamie who has been eating here all his life selected the Achari Chicken Tikka with Special Rice and a Chapatti. Chicken?
Poppadoms and Onion Chutney were brought to the table, Complimentary I believe. The Onion was in massive chunks, strange.
Who ordered the Meti Gosht?
Doris returned to check on my order. I suspect the No Capsicum was followed too closely by the Coriander and Garlic Nan as she wrote it. Good to check. Methi, Coriander, the lot please.
The wait was within acceptable parameters. A raised stand would house three of the Mains, Jamie's was chucked on top of his Rice before Hector could take the ritual photos – he will learn. The Methi Gosht looked the part, there was hope. Dr Alan's Kashmiri looked to have substance. The remaining Curry dishes were Red – ugh! Food Colouring is necessary, it can also affect the flavour, to its detriment.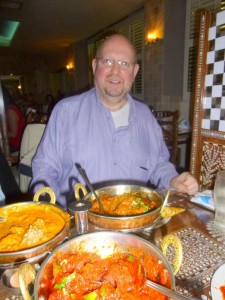 Everyone got tore in except Hector who was minus a Nan. I had to smile, for once.  With Peshwari and piles of Chapattis on the table, I was offered some to get me going. I suspected the Nan had never made the order pad. I attracted the attention of a Different Doris and the Coriander and Garlic Nan was presented – it was obviously fresh from the Tandoori Oven and was perfection. The thicker parts were cooked through, the Coriander covering was a stand out, a good choice.The Lamb in both dishes was served in large pieces, perhaps this observation was a counterpoint to the classic Bradford small-cuts. Marg and Hector both found the Lamb to be chewy then it dawned on us, this had to be Tikka Lamb – why?
 The Meti Gosht was under the Chef's Specials as I recall it it, there was no mention of Tikka. Tender Lamb in Curry please.
The Masala in my Meti Gosht I recorded as good to very good but certainly not in the Wow category. This however is easily the best Curry I have ever eaten in Dumbarton.
Marg found her Lamb Karahi to be Rich in flavour with a Kick. The Coriander was to the fore and enjoyed. I was able to sample it at the end of my meal, it was bland in comparison to my much better dish.
Dr. Alan described his Kashmiri Chicken as being Creamy and Gentle on the Palate.   I had to tell him that the Recipe for his dish is on this very website.  The Peshwari Nan was described as Supple, how Dr. Alan thought he would eat his Chapattis too I will never know.  In the end the surplus Bread went in a Doggy Bag. This did mean that he left some of his Curry enabling Hector to review another dish. The Kashmiri was Spicy and not over sweet, in fact I found it very pleasant. Ahmed, the Islamabad Curryspondent remarked that I might end up eating Chicken Karahi, no chance, but this meal was very pleasant. Marg should have had this.
Jamie stated that he had Good Achari and Good Chicken. Both were tasty and there was a good Meat to Masala ratio.
We had not been served a  Soup Masala, a significant positive. The sneaky serving of Lamb Tikka was a negative as is the persistent use of Red Food Colouring.
The Bill
 £48.60. This is excellent value and included one pint of a Cold, Yellow and Fizzy Drink that was hardly touched – initially.
The Aftermath
The Calling Card was left with little ceremony.
Marg and Hector were more than halfway home, the others jumped on a train from the nearby Dumbarton East Station.