'Planes and Curry
Clive spent a considerable amount of time researching the Curry Houses within either a twenty mile or twenty minute radius of Gatwick. With the easyJet flight from Glasgow on time, Hector was collected by Lord Clive and Lady Maggie and whisked off to Horley, scene of a splendid Curry-Heute at the Jai Ho in July of this year. Our booking for the New Curry Bengal (25 Station Road, Horley, RH6 9HW, Surrey) was for 22.00, we were a few minutes early. This did not matter, we would be the only Diners.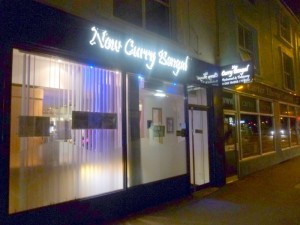 An Award Winning Restaurant, Clive informed me en route – what Honourable Person accepts an Award? The Chef was flown over to LA by Beyonce to cook her a Curry is a Saga that is reported on the Website for the New Curry Bengal. Somehow I suspect that this was not the Chef who prepared our meals this evening.
We were offered Poppadoms, they were not brought automatically, so we know what that means. The table for four was small, with the Menus in hand there already little space. Being the start of the Holiday Weekend Hector permitted himself a pint of Indian Lager. We were offered both Kingfisher and Cobra. Clive confirmed that both were on draught. A Pint of Kingfisher and a Bottle of Cobra were then presented. By this time Maggie was raving about the Poppadoms – Fresh and Crispy – how they should be. That this could have been the highlight of the meal was as yet unknown to us. There was sufficient Mango Chutney and Onion for the three of us with two Yoghurt Dips.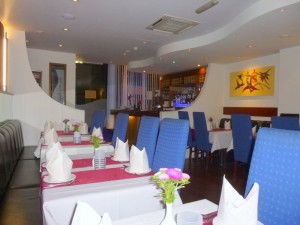 The Menu was like something from the 1970s with added Balti. Hector could only find one Curry in the Specials List that might suit, there was no sign of Karahi or Desi-style dishes. The Ada Kata Lamb was a possibility – Lamb strips tossed in a whole roasted spice and fresh root ginger – whatever that means. I checked, the Lamb was Tikka Lamb, scratch this. There were no more Specials that were not either Chicken or Lamb Tikka. This left the classic Curry dishes and so as I normally do in such a situation I ordered the Meat Vindaloo. Why does a Menu revert to Meat?  And why the – New Curry Bengal? At a little over £5 compared to the £8 for the Specials I felt entitled to order a well priced Side – the Aloo Gobi. The Waiter later read it back as Aloo Sag and had to be corrected. Assuming the worst, I dismissed Chapattis (90p) and opted for Plain Pilau Rice.
Maggie who was once again reminiscing about the wonderful food she and Clive experienced in India earlier this year, insisted on pronouncing the Murgh Mumtaj correctly. Clive managed to sneak in a Shami Kebab along with his Garlic Murgh Chilli. One more Pilau Rice for Clive and a Mushroom Rice for Maggie, who was hungry.
It did feel somewhat strange sitting alone in a decent sized Restaurant on a Thursday night.
A Trolley was pushed out with the majority of the dishes. The Meat Vindaloo was placed upon the Plate Warmer – Soup! Maggie's Murgh Mumtaj looked very interesting – a piece of rolled Chicken covered in a Korma-style Masala. Clive's Garlic Murgh Chilli looked the most aggressive of the three dishes with its single large Red Chilli sitting proudly on top.
Two out of three ain't bad – it's ridiculous!
Maggie broke the seal on her Roll of Chicken. It had been described as being Mild and having Spice and Herbs. The photo of the interior shows why I will never have a Chicken Curry, how can there be anything exciting about this? Maggie found the dish to be exceptionally Mild and too Coconutty. The Mushroom Rice was hardly touched. In the end a good bit was left – this meal did not impress.  One assumes Maggie was still hungry.
I poured the Sauce on to my plate with some of the Meat. It was as if no Onion had been harmed in the creation of this dish. The Meat, Lamb possibly, was tough. It had also most likely been introduced to the Sauce moments before being served. There was no flavour to take note of at all, there was no heat. This was a Vindaloo? Did it deserve to be served up as Curry?
There were some pieces of Potato so I had to question my own order when I added some of the Aloo Gobi to the plate. It is just as well I ordered this Side. The Aloo Gobi was the very good indeed. A Dry and Thick Masala oozing with flavour and a very decent Kick. The Side was Spicier than the Vindaloo – by far!  A full plate of this and a couple of Chapattis would have been far more satisfying.
Clive was a bit behind Maggie and I having taken care of his Starter which of course came with his Main. Light on the Spices – not the best Shami Kebab was Clive's comment as he started piling the Chicken on to his Pilau Rice.
He had little to say about his own Garlic Murgh Chilli other than it was Spicy too. I tasted a bit of the Masala – now here was a Curry! If Howard had been here he would have insisted on exchanging meals so that Hector would have the best one. The Masala was very well Spiced indeed. The classic Indian  Curry flavour achieved through the blend of Onion and Red Chilli was to the fore. Although still far too runny, this at least was the basis for a decent Curry. If only it been offered in Lamb, sorry – Meat.
 When the Waiter came over to check on our progress there was none of the usual – Fine. Having watched the Photos been taken of every part of the meal he must have guessed. Indeed, for the first time the Diners do not appear themselves. You can read about it tomorrow was my response on our behalf.
The Bill
£48.50. This did include exceptional items – two Indian Lagers. £3.30 was for the Poppadoms and Dips.
The Aftermath
The Calling Card was placed on the tray as Clive did the Credit Card trick. There was no comment when I announced that a revue would appear on my Curry Blog.
With Hindsight, I could have asked for a Tender Lamb Chettinad, not on the Menu (Chicken Chettinad is) but possibly a dish they might cook well given Clive's order. Perhaps somebody will ask for this one day and let the Hector know.
There was a mad dash to The Swan for last orders. Fortunately they are open until midnight on a Thursday. How Professional of Clive not to know this…