The Akash remains closed!  There is currently only a single Curry venue in Helensburgh where one can sit down to enjoy Nature' finest Gift, or is it Man's finest Creation? – Curry!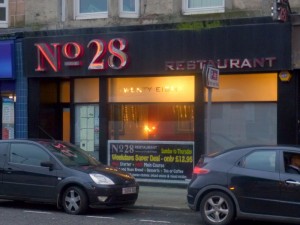 And so Eleanor decided to keep Hector company in his otherwise lonely vigil. It is the start of the Thursday Night Season once again, x6 Curry-Heute sessions in Helensburgh between now and the end of April.  We entered No. 28 (20-28 East Princes Street, Helensburgh, Dunbartonshire, G84 7QA) just before 18.00, two other diners were present.  The Akash would have had more than this but for reasons yet to be verified, they remain closed.  Hopefully Mr Ali will be back soon.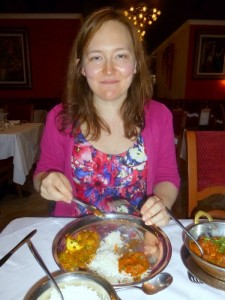 The possibility of Marg joining us later put the Waiter off, his magic recording device had to know immediately how many diners would be at the table, ah technology.  Last time I had a Chef's Curry which did not overly impress, tonight I found Methi Gosht on the Menu, there was more hope.  Starters were waived in favour of a Side vegetable Dish.  I asked the difference between Mixed Vegetable Curry and Indian Vegetable Curry, the answer literally was – The Vegetables!  I went Indian, for a change.  One Chapatti (£1.50) felt enough.  As is becoming the norm, I asked for the dishes to be as Dry as possible.
Eleanor chose the Lamb Ceylonese, she debated Lamb for long enough, worried that it might not be tender enough.
 Eleanor buys food here regularly, but from their Takeaway venue next door, The Flamingo.  This dish was described as being – Fiery Hot, it also contained Coconut, Herbs and Spices, different. Bombay Potatoes was Eleanor's Side with a Plain Pilau Rice as Accompaniment.
Both Main Courses were presented in Dry and very Thick Masala, so we were off to a good start.  The Lamb was Tender, not as soft as I have enjoyed of late but more than passable.  The Masala did not have any significant Kick or burst of Flavour despite the inclusion of the Methi, perhaps it needed more? The Vegetable Side was possibly more impressive, I am finding myself enjoying Vegetable Curry more and more of late.  This did have a distinctive flavour, a slight sweetness, not excessive, well balanced. The Okra was on the soft side but overall this did impress.  One Chapatti was indeed more than enough – as is an Egg…
Eleanor describe her Ceylonese dish as a New experience.  It was indeed Hot and water had to be partaken of, always a mistake.
 The Bill
£38.05.  The two Sides were £5.50 each which is £2.00 more than necessary, it was only Vegetables.
The Aftermath
The Victoria Halls, a talk from the Ice Warrior.