Hector finds himself in the same Curry House with the same Fellow Diner on consecutive days, yes Eleanor would willingly eat Curry every day too. Once again I have to hang on in Helensburgh for an evening appointment and the only place for Curry in this town at present is No. 28 (22-28 East Princes St, Helensburgh, G84 7QA ).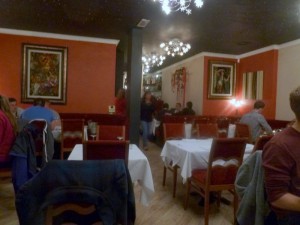 This was now Hector's third visit to this venue. The Chef's Curry had not particularly impressed on Visit #1. Last evening the Lamb Methi was fine, not outstanding. Hector really needed to find something that would leave a lasting impression. Achari Balti Gosht was given the task. Vegetable Rice was selected as the Accompaniment.
Eleanor chose a Goanese dish, the Kali Mirchi Masala, Lamb of course. This was described as being Hot, and containing Tamarind, Chilli and Black Pepper. Once again the Vegetable Rice was chose to accompany.
Last evening we both had Vegetable Sides to make the meals more interesting, this evening Eleanor suggested Vegetable Pakora. The Pakora had all the signs of being double cooked as deduced by the dark exterior. Oh to get freshly cooked Pakora… The Pakora was dry, the wrong dry. This was a pity as the accompanying Dips were well above the average. The very thick Yoghurt/Raita was a worthy complement to the thick Chilli Dip. A pity the Pakora was not up to it.
Oh no, Lamb Tikka!
Hector was presented with the Curry. The Masala was Dry as had been asked for, it was indeed Spicy, Sour, and Tangy – the full blown Achari experience. Then there was the Lamb.
The pieces were cut flat, the red food dye was visible. Hector will eat Lamb Tikka alone, it does not work for me in a Curry – well until this meal. For the first recorded time This Lamb Tikka was soft enough to match most Tender Lamb dishes. How has No. 28 managed this creation? Finally, I have found a dish here that I would have no hesitation in recommending.  And the Vegetable Rice was sound too!
Eleanor's Kali Mirchi Masala was also Lamb Tikka and again Soft and Tender. She described the dish as having a very pleasing taste, with just the right level of Spice. Another success, it appears.
The Bill
£29.40. Within acceptable parameters.
The Aftermath
There was a presentation this evening, the Pub of the Year Award to the Commodore for serving the finest Ale in Dunbartonshire. The email said 8pm, why did I arrive at 8.50?