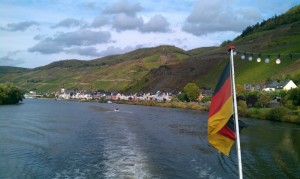 This morning Hector was in Zell (Mosel) verifying that the Taj Mahal was indeed closed – until April a sign on the door said. Business must have been good if they can have six months off.
Steve and Hector made the required rendezvous with our respective Ladies at the Bon Accord. Marg agreed that there was still time for Hector to have a Curry next door at the Punjabi Charing Cross (157-159 North Street, Glasgow, G3 7DA). We popped our heads into the empty restaurant around 23.00. Ram welcomed us in, there would be one Diner.
My Sparkling Water was brought straight away, Marg had to order something similar. I placed my order immediately in order to prevent the presentation of the Complementary Poppadoms and Dips. The Lamb Gurmeet has been set aside in recent visits in favour of Quail and even Venison. Two Chapattis would be the Accompaniments.
Hari appeared from the depths and what became a very long conversation ensued. This was politely interrupted whilst I ate, but the three of us discussed our chosen topics at length, a very pleasant evening. It was realised that I have not been to Akbar's – Glasgow's Bradford Curry – outlet for months. Such is the quality on our doorstep.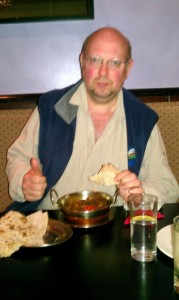 The Lamb Gurmeet was on-the-bone. The Masala was thick with Fresh Methi and I guess some other herbs too. The combination of quality Meat and the Masala gave a perfect Curry experience. The Salt content was significant – Karrah! This brings out all of the flavours. The occasional chips of bone made me speculate as to the presence of other meats, had the Chef sneaked in some Goat? Hari confirmed it was all Lamb.
The Bill
£11.45. There was no charge for the Sparkling Waters.
The Aftermath
The conversation continued. Marg and I visited the original premises on Paisley Rd West many years ago. We must make a point of returning.  The quality of the spoken English by Indian Students studying at Glasgow's Nautical College was described as outstanding.  These Chaps also tend to work part time around Glasgow's Curry outlets.
Finally, Hari commented on the fact that we have not enjoyed his Mother's Karela for some time.  This will have to be addressed – soon!