Tonight Dr. Stan and Hector ate for Scotland, and admittedly to excess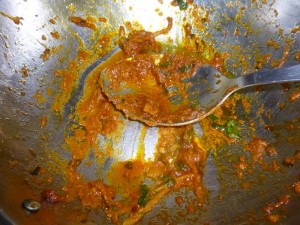 We arrived at Yadgar (148 Calder St., Govanhill, Glasgow, G42 7QP) at exactly 19.00, bang on the arranged time. As has become the norm, Shkoor, Mein Host, was texted and the request was placed 24 Hours in advance – to be fed. Shkoor replied immediately to ask – Do you require a Starter of any kind? … Oh, why not? was the reply.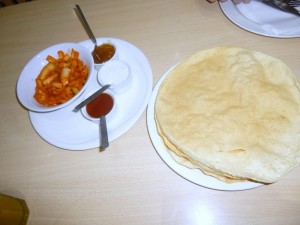 The Ever-present Naveed greeted us as we entered, Ahmed immediately brought two Cans of Mango Rubicon and two Glasses. Moments later three still warm Poppadoms were placed before us. The generous Bowl of Rough-cut Onion Chutney was accompanied by Mango Chutney and two Dips. The Salad Plate arrived, how much more? This was the Prequel. It was Naveed who then brought out the plate of Masala Fish sat in Foil. The pieces of Scottish Haddock are baked in a blend of Spices which form a Crispy Topping on the beautifully cooked Fish. This is simply a joy to eat, having enjoyed it a few times now, how could we not accept the offer to serve it?
Ideally we could have done with an hour to let all this settle, alas that was not to be. There was time to note that no Menu was offered to any Diner at Yadgar this evening.  There was no discussion of any order.  Everyone must have arranged their meal in advance. It was a joy to see the array of dishes being brought from the Kitchen. But the greater joy was the realisation that the first Kilo of Goshat Karahi on-the-bone to appear from the Kitchen, would be ours.
We know what a Kilo looks like, this still looked like a Mountain. The Chaps were not finished yet. The truly magnificent Vegetable Curry which Mr. Anwar Sr. introduced to Hector earlier this year made another appearance. This was a Side? It was a Portion! Just the three Chapattis, somebody saw sense.
Here we go
This was Dr. Stan's first encounter with the Vegetable Curry. It received a very loud Dr. Stan – Mmmmm – after the first taste. There was wild enthusiasm, on a Dr. Stan scale as more was appreciated. Hector and Dr. Stan raving about a Vegetable Curry? Who would have thought, however, as Regular Readers know this is Potato, Carrots and Peas taken to a new level.  The distinctive Yadgar flavours and a serious Kick.
The Goshat Karahi needs no introduction, if there is a finer Curry dish served in Glasgow I have yet to discover it. Eating this is like wrapping oneself in a Luxurious Duvet. Not over-Spiced, yet there is a sufficient Kick, from the exceptionally Thick Masala. The Masala has been of course prepared for the Hector-Palate hence its relative minimalism. The Glasgow Curry Flavour at its best. Sucking the Marrow from the occasional Hollow Bone adds another dimension to the flavour from the Lamb. The pile of Bones grew, the Lamb slowly disappeared, superb.
Shkoor made his customary appearance and immediately asked if we were being looked after. Moments before, Naveed had enquired if we needed anything else – Same again, was the ironic response.  Shkoor was willing to comply, aye right.  There lies madness.
In order to guarantee that I could do justice to the food before me, I abandoned the Chapatti. Dr. Stan was relentless and managed to make a good stab at the third Chapatti.
Eventually Shkoor was consulted – Permission to stop eating, Sir? The Debris was Bread and Bones, sheer indulgence. Shkoor suggested we should only order the Starter again when there is a Blue Moon.
Take another Look at This Wonderful Food
The Bill
£35.00 was asked for, significantly more was given.
The Aftermath
See you at the next Full Moon.  I was the The Gym today, another visit will be mandatory tomorrow.