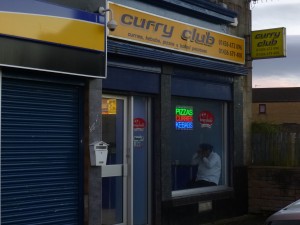 The Curry Club (2 Old Luss Rd, Helensburgh, G84 7BH) has been in operation as a Takeaway for some nine years the Proprietor told me as I waited for my first ever meal from these premises. With the Akash closed (gone?) there is only one Sit-in venue in Helensburgh, and having sampled the wares of No. 28 last month, Hector was determined to try something different. The only Lamb dishes on offer appeared to be Lamb Tikka and so I went for the Beef Karahi (without Capsicum) and Vegetable Rice as the Accompaniment.
The Bill.
£9.70. Time would tell if this was good value.
The Aftermath #1
The Turbaned Proprietor came off the phone as I finished my order and so I thought I would try and be engaging. He was up for it. We spent a very pleasant ten minutes discussing the lack of Curry in Helensburgh initially. The conversation widened out to Glasgow Curry, he had been at Yadgar last evening for Sweets. Hector was becoming a fan. The New Karahi Palace was also a place we had in common, expectations were being raised.  Ironically, the more famous neighbour did not rate a mention. He had worked as a Newsagent in Lawrence St., Partick before becoming involved in the Catering Trade. Having run the County Hotel next door to his Curry Club Takeaway there has been great development. There was talk of plans to extend the Curry Club at the rear and open a seating area. He certainly knows everyone, well almost, Hari at the Punjabi Charing Cross drew a blank. The Calling Card was received with grace.
Meanwhile, back at Work… The Curry
It was Red and Wet. This did not endear itself to this commentator, but come on, it's Curry! The Beef was plentiful and in large pieces, a very ample portion. The Masala desperately needed Salt, but at least there was more than decent Kick. As one would expect, the Beef and Masala felt like Strangers who had just met in the plastic container. Why so Red?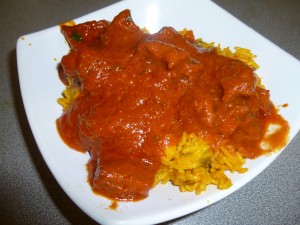 The Vegetable Rice was excellent. With an abundance of Potato and Cauliflower this gave a decent alternative to the Beef. Eventually I realised that the only way I could finish the Rice would be to spoon on the excess Masala. In the end I was defeated, a pleasing sign.
The Aftermath #2
I spotted King Prawn Methi Gosht on the Menu as I waited. How this can be I know not, next time.