München in the morning, Musselburgh in the afternoon, driving home in the evening, it was time for Curry-Heute!
Marg announced that she would eat something else, Craig and Yvonne in the back of the car were strangely quiet, it would have to be a Takeaway for one.  The call was made to The Yadgar Kebab House (148 Calder St, Govanhill, Glasgow, G42 7QP)   giving an hour's notice. One Goshat Karahi – A Hector Portion and Vegetable Rice.  The latter would reheat better than the normal Chapattis, it is also some time since I enjoyed this excellent Accompaniment.
Suppers Ready
 Ahmed confirmed that I wanted to take my order away, it was called for and presented.  Now for a brainwave.  There is always Cooked Chicken on display under the counter – they have been calling me for years.  This was the Opperchancity, Marg w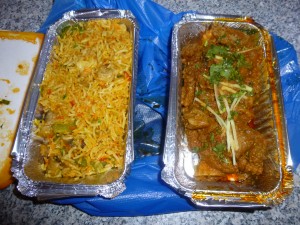 ill love what I have now planned for tomorrow…
Take a Look!
What other Curry Source in Glasgow could have prepared this dish much approved by Hector.  The Masala was minimal in the absolute, this was not the customary Plate of Soup served up by the majority.
The Reheat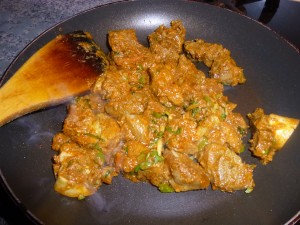 The microwave took care of the Rice.  A dry frying pan seemed the best receptacle for the Goshat Karahi.  There was still sufficient moisture and the oil content in the Curry, also minimal was sufficient not to destroy the dish. Here we go…
Yadgar at Home
Basically I ended up with an exotic Biryani such was the exceptionally Dry result.  The flavours were there but maybe got lost a bit in the mass of Rice.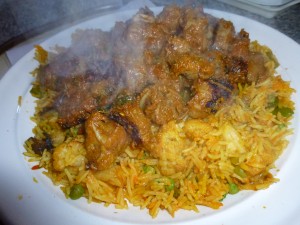 The Bill
£16.00.  This included two very large Chicken pieces for an attempt at Butter Chicken tomorrow.
Hector was hungry, every last morsel was consumed with ease.