Hopefully with Hector's calendar free of Weekend Trips until the end of the year and Dr. Rick based in Glasgow for the foreseeable, we shall both be able to keep Dr. Stan company for the Ritual Friday Night Curry-Heute.  Having found the Higgs-Boson, Dr. Rick can now turn his attention to discovering the Perfect Curry.
The 17.45 rendezvous was at Akbar's (573-581 Sauchiehall Street G3 7PQ), a booking had been made as we have seen this venue fill rapidly early evening.
Mein Host greeted me on entry; I had not seen him since the Awards Evening back in June.  It is also some six months since Hector last set foot in these premises.  The draw of a Bradford Curry on my doorstep has been tempered by Trips to Bradford and an acceptance that Glasgow Curry does indeed hold its own as my  Homepage claims.
Our Waiter for this evening was Sohail, this is how Akbar's operates; he would indeed look after us for unbelievably, the next two hours.
Having arrived last, The Two Doctors had already agreed that Starters would be in vogue for a change.  Well, no Half-Kilos were on offer.  Lamb Chops for Dr. Rick and Hector, Dr. Stan as ever ordered his favourite Sikh Kebab.  We declined Poppadoms, twice.  Soft drinks as ever would be sufficient; Robin would advise us in due course where the Ale was at.  Sohail advised us that the Starters would be fifteen minutes.  Again, this is what they do at Akbar's.
Hector has yet to break away from the Ritual Order – the Roshan Lal (without).  Dr. Rick on his first visit followed suit whilst Dr. Stan, contrary as ever ordered the Roshan Lal as printed on the Men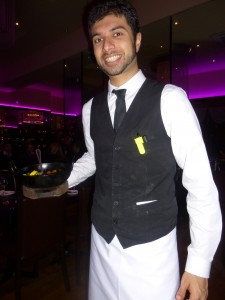 u.  Six Chapattis would be the Sundry Items.  Mein Host appeared to ensure that Sohail would record the order – In the Asian Style, nothing bland for us!
By now Sohail had been told that Hector was in the building, fame at last? He was keen to find out what Curry-Heute was all about and as it transpired get his photo published – here is Sohail, a very well spoken and intelligent young man.  He gave us the Party Prose, telling us how Akbars see their Market niche and accept that Mother India are catering for a higher end of the Market (he thinks?).
The Lamb Chops were four in number and accompanied by a Salad with Onion and Black Olives, impressive.  The Chops were delightfully Black on the outside and still a bit Pink on the inside.  Yvonne would later tell me that this is how they should be served, Hector likes his meat cooked through – Durch!  Still they were superb!  Dr. Stan enjoyed his Pair of Sikh kebabs, he was more than satisfied.
Sohail then advised that the Curry would be another ten minutes, time to let us digest the impressive Starters.
One Waiter does not bring the food, an entire Posse appeared bearing gifts.   Four Chapattis were brought at first, the rest as a fresh top-up.  And so we ate.
The Bradford Curry Taste was there, the Roshan Lal was not as Salty as on my first visits and so the Flavours were not so in-your-face.  Still there was nothing but pleasure to be extracted from this dish.  The Lamb was cut in small pieces, in the Bradford Style, the Portion was Bountiful.  The Masala was Minimal and Thick as it should be.  As ever there was little talk whilst the men were eating.  Sohail came over to check all was well, a Salt Lassi was ordered by our American guest.
Dr. Rick was silent for a few moments as he selected his words carefully – Well prepared, good blending of Spices, not overpowering the flavour of the Lamb.  Dr. Stan's verdict – I concur.
Sohail asked for a score out of ten.  I gave it 8, Dr. Rick thought 9. Nein?  I prefer not to do this and hope it does not become the norm.  The Curry had the Wow-Factor, this is enough praise from Hector.  Sohail asked how it compared to Mother India.  I don't go there!  Dr. Rick told him to read the Blog to find out why.  Nice one!  I advised our Young Waiter that Mother India is not the competition, Café Salma is a few doors away, and the Punjabi Charing Cross is around the corner.  There lies outstanding Glasgow Curry with the Service to match!
We were offered Complimentary Tea or Coffee by our eager Waiter.  I declined, why taint the wonderful sensations the Palate was still enjoying?  The Two Doctors accepted.
The Bill
£53.95.  With Starters, this is well within acceptable parameters.
The Aftermath
We were escorted off the premises in the best of all ways, and issued with Menus.  I fully intend to return soon and break away from the trap that is the Roshan Lal, after all there is an extensive Desi section.
Lost in Translation
In the course of our chatter, Dr. Rick was describing the poverty of Curry served in Partick.  He considered Kelvinhaugh and mentioned the Ashoka and Topless.  I wondered what he knew that I did not.  Later at the Laurieston he was describing another Topless Venue to The Chaps.  Ah, Tapas!