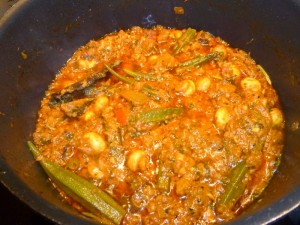 Having watched further episodes of Madhur Jaffrey's Tour of Britain  Hector has reached two conclusions:
1)  The Scottish Programme was terrible, Haggis indeed.  What about featuring some of our Wonderful Glasgow Curry Houses?
2)  It doesn't mater what you do once you get the Onions, Ginger and Garlic underway.
I knew the second fact already but thought it was worth re-enforcing.  Tonight Hector has taken from the fridge – Mutton which has been marinaded overnight in home-ground Garam Masala, Yoghurt and Vinegars – both Balsamic and Cider.
Yesterday, on a visit to KRK (Woodlands Rd. Glasgow) I purchased fresh Karela, Green Chillies, Okra, Methi and Coriander.  They are all going in.  Some Lime Pickle will be added too, plus Mushrooms.  Overkill?  I hope so!
The Recipe is per the Masala preparation in the Recipes above.  A Half Jar of Lime Pickle was added 45 minutes before serving.  The Mass Of Green Vegetables was added fifteen minutes before the end.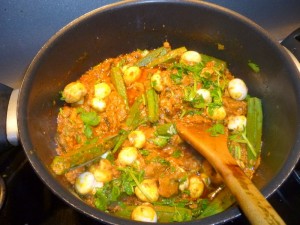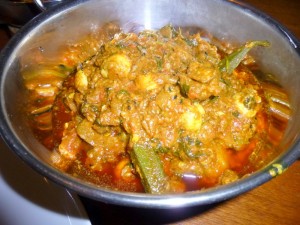 Marg's first comment was on the Citrus flavour, so was her second.  Having kept the Chilli Powder to a minimum even the addition of three Green Chillies did not make the dish explosive, but then Lime can take the Sting out of a Curry.  The Mutton had been cooked for the best part of two hours and was suitably tender.  To describe the dish as Dry and Thick would be modest, it was just how I like it.  The combination of Karela and Lime Pickle gave a Dry-Bitterness which was remarkable, maybe less than half a jar next time.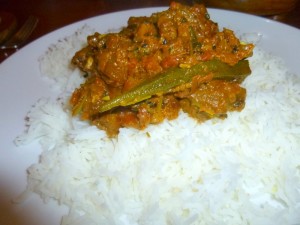 This is the first Lamb Curry of sorts I have cooked in months, it could become a weekly event.