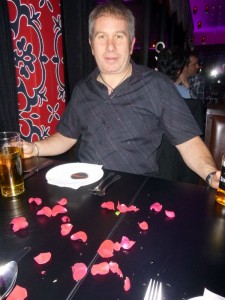 Evenings out with Alan and Tracy are examples of synchronisation, getting four Diaries to surrender a mutual date takes months of planning. Tracy was declared unfit to travel and was an eleventh hour call off. This left Alan to entertain Marg and Hector. It is the countdown to Alan's first trip to München. He will take the Capital of Bayern in his stride, he is not there to drink Bier, he doesn't. He has been programmed exactly where to go for the finest of Curry Experiences – Indian Mango. However his motivation is therefore the strangest of all Migratory Pull Factors, – Motörhead!
Akbar's (573-581 Sauchiehall Street, Charing Cross, Glasgow G3 7PQ) will be a new experience for Alan, Marg has not been since Hector's second visit when very average food was presented. Tonight Hector was determined to break away from the now tried, tested and passed with flying colours – Roshan Lal. Alan would be trying this excellent Bradford-style Curry on my recommendation.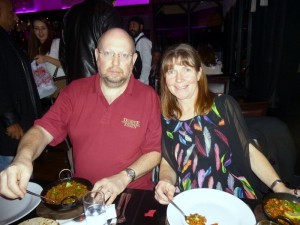 The booking was for 18.30, we were punctual but were still asked to wait some moments at the bar. Mein Host acknowledged the Hector as he led a group to their table. He was straight back – Your first Drinks are On-The-House! Now this was thoroughly appreciated. Cider is Alan's Tipple, it is on sale in 330ml Bottles at a whopping £3.00 a bottle, a pint (sic) therefore costs, let me see 2 x £3.00 = £6.00! The normal Cider Bill is usually more than the cost of an individual Curry. Hector stuck to his preferred Sparkling Water, Marg her Soft Fruity Drink of choice. This encounter also gave me the opperchancity to ask Mein Host (whose name I must clarify) to recommend a dish that would be true to the Bradford-style but not be Roshan Lal. The Lamb Karahi – Desi-style would be that dish.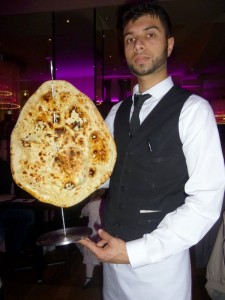 Sohail, our Waiter from last week was again appointed to look after us this evening. I assured Alan and Marg that he would indeed look after us, this is the Akbar's way…
Marg surprised me by ordering the Fish Karahi. She insisted we have the Poppadoms and Dips. Having enjoyed the Lamb Chops last time I had to have more. Alan was up for this too. Three Chapattis and One Garlic and Coriander Nan were the Accompaniments.
Sohail read back our order to ensure he had everything recorded with precision. Everything was ordered Desi-style, In the Asian Style – the language of securing Top Nosh at Akbar's.
The Lamb Chops came in less time than anticipated. Sohail had quoted their ETA, we were too engrossed to worry about how many minutes had passed. The Lamb Chops were wonderful – Seriously Spicy, and this time Durch! – Cooked Through! Alan shared his portion with Marg, share? What's that then? Marg appreciated the bits of accompanying Salad that came her way. This included Olives, nice touch. A Chap in Chef's outfit brought plates and another Salad, we were eating non-stop.
Again the wait for the Mains did not feel long, but we had been here over an hour by this time. More Cider had been ordered in the interim. The Kitchen Army brought the Food, Sohail ensured all was correct.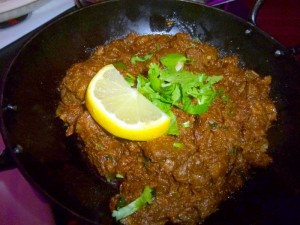 The Lamb Karahi Desi is the Driest Curry I have ever been served in Glasgow. The Oil had all been dabbed off as they demonstrated when I had my Kitchen encounter here in Visit #3. This was Curry in the true Bradford-style. The Kick was superb, a real joy of a dish. The Lamb was cut in very small pieces again a la Bradford. Tenderness was guaranteed. I could eat this every day.
Alan had to endure the embarrassment of owning up to the Nan served on its Skewer.
This does save a lot of table space, but it is a gimmick. He did not find the Curry to be Spiced enough. It was definitely a Desi-style dish, but was lacking the expected Kick. Later Alan would describe this Curry as the least impressive of the New-Found Venues I have taken him to over the last few years. He will definitely be back, with Tracy, but knows he will have to ask for Medium with a Kick to ensure satisfaction. Maybe I shall be invited to be the Co-diner?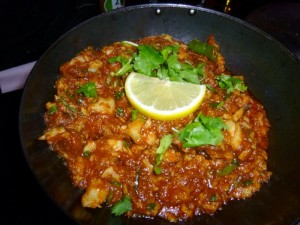 Marg's Fish Karahi was served differently from how she is used to – Hector-style – with the Fish intact. The Fish was flaked and appeared mixed through the Masala. The dish was on the Spicy-side for Marg but she ate her fill. This meant Alan and I were able to sample – this is sharing… It was good to experience another Akbar's dish. This would make an excellent Lunchtime Curry, but Akbar's is not open at Lunchtime – YET!!??
VDT
Alan ordered an Espresso and Marg a Cappuccino. Hector had spun his solitary Sparkling Water over the length of the visit, time to work up a thirst.
The Bill
Sohail brought the Bill. £48.30. Over £10.00 had been removed for the first drinks. The Coffees were On-The-House too. The Tip was more than double the norm. Nice to be nice.
The Aftermath
We made our exit and went on to the Glasgow CAMRA Pub-of-the-Year – The State Bar. Loud music drove us across the road to Hengler's Circus where the pleasure of Hawkshead (Staveley, Cumbria) Five Hops awaited.
Two visits to The Village and Akbar's in recent weeks. Hari must be missing me. Shkoor will understand.