Indian Tandoori Takeaway
Twelve months ago there were three Helensburgh Curry Houses, now one remains.
For the sake of convenience and diversity, it was time to try another local Takeaway.  Singh's Palace (73 Sinclair St., Helensburgh, G84 8TG) has been in the town a few years, the (temporary?) closure of the Akash must have given them a major boost being located a few doors up the street.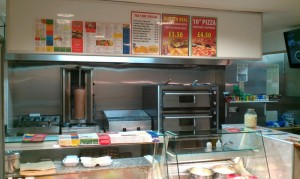 The temperature was already below zero as Hector entered around 17.30.  The door was wide open – to prevent the buildup of steam Mein Host related later. One side of the A3 Menu was devoted to Curry and Sundries.  So, perhaps there was hope that this was not another glorified Kebab Shop.
The Lamb Karahi looked the best bet, the Singh's Chef's Specialties were all Lamb Tikka based.  On asking for the dish to be served without Capsicum I did suggest they substitute another Vegetable.  This never appears to work, however, Mushrooms were suggested. Fine.  Two Chapattis (90p) felt like the perfect Accompaniment this evening.
The Bill
£8.30.  This was less than the Set Meal for One.  Yay!
The wait was not a long one, but it was cold.  A couple discussed endlessly how big a meal they would get with their Nan.  In the end Calzone was their order, with Chicken Tikka – of course!  They did shut the door.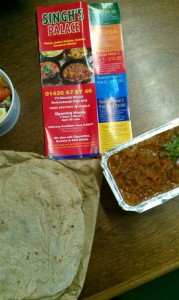 The Curry was driven quickly back to the place of work before the cold night air ruined the food.  First impressions were good.  This was not Soup, the  Masala was reasonably thick, copious Onions were visible.  The Chapattis were a decent size and looked the part, so perhaps they do have a Tandoor.
There was a Kick, not a huge one.  The Flavour was decidedly singular, there was nothing complex about this dish at all. The Onion dominated with Pulped Tomatoes bringing up the rear.  It was a Curry, simples.  The Onions and Tomatoes once again gave the impression of being closer to a Rogan Josh.  What happened to my Substitute Vegetable?   The Lamb was plentiful but I became aware of having to chew more than the norm.  The Lamb was not tough, it could have been more tender.
If the Akash does not open by the end of January, Hector will not be a Happy Chap.