If Dougie was here he would tell you himself
You'll just have to take Hector's word for it…
Dr. Stan was on a tight schedule.  He was determined to be in The State Bar by 19.00 for the launch of a new Ale from Fyne Ales – Roxy.  The Complementary Poppadoms were being brought to the table as I entered the Punjabi Charing Cross (157-159 North St, Glasgow G3 7DA). Dr. Stan had ordered the food – two portions of Lamb Gurmeet and four Chapattis.  Steve would be in the Bon Accord next door at 18.00.
Ram said he would bring the Mains in ten minutes, we were on schedule.
The Lamb Gurmeet was served on-the-bone.  The portion was sufficient even allowing for the visual inflation created by the said bones.  From the first dip of the Chapatti to the last scraping of the Methi-rich Masala this was once again Glasgow Curry at its very best.  Dr. Stan emitted one of his customary grunts of approval, no more needed to be said.
It is wonderful that Charing Cross boats three excellent Curry Houses, pity I cannot be in every one every day.
Nobody Expects…
Hari appeared from the depths with his coat on.  He was heading over to Ibrox (it will always be Ibrox!) to the original premises – The Modern Punjabi.  Hari described the Menu there as traditional Glasgow Curry.  The Venison, Goat et al are only served in the Charing Cross branch.  He feels he must cater for his local clientele who have eaten there for years – the Menu has not changed in 33 years – Hari said.  Why 33?  Neil and Hector ate there on occasion in the late-1970s when Glasgow Rangers were winning Trebles with ease, and my  hero Derek Johnstone, my two heroes – Tam Forsyth, my three heroes – Davie Cooper – were at their peak.  Was that 33 years ago?
The Bill
£29.90.  I believe the Chapattis were charged at a reasonable 75p each.
The Aftermath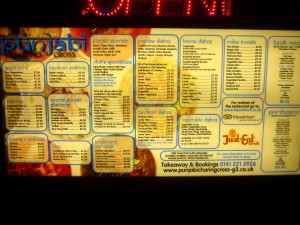 Passing later between the Bon Accord and The State Bar, we stopped to admire the new illuminated advertising board outside.  Steve remarked that it looked a like a Takeaway Menu.  We then tried to remember which two dishes Hector had combined to create the Lamb Gurmeet.  Just as well there is a Blog to record such historic moments.
The Man from Bradford is in town tomorrow, madness awaits… and a Curry-Morgen…