My name is Hector, it is seven days since my last Curry…. Unglaublich!
The last Curry-Heute report was from the New Karahi Palace (51 Nelson Street, Tradeston,Glasgow G5 8DZ), it was such an outstanding experience I resolved to return as soon as possible. Tonight I was the Lone-Diner though two Chaps did come in and eat more modest creations whilst I enjoyed my custom-cooked Karela Karahi Gosht. Occupying the prime table, furthest from the door, the Chill Factor was not an issue.
There was a warm welcome from Shahed who asked where my friend was. Wait until he meets the rest of The Friends of Hector.
Shahed was not surprised that I repeated the order of last week, however I did surprise myself by ordering what I thought would come as a Side – the Tarka Daal. John who has been making comments about the minimalist Lunchtime Portions at this venue's nearest rival – The Village – planted the seed of a Pulse Side during the week.
A few Takeaways were shipped out whilst I waited, the wait was not a long one. Long enough to know that this was not simply ladelled from a pot, but not so long as one wonders if they are growing the vegetables rather than cooking them.  The Complemetary Salad and Raita kept me amused and reinforced the fact that this evening the hunger level was off the scale.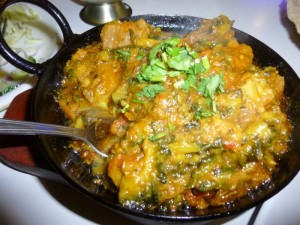 Shahed had a big smile on his face as he brought over the Karahi piled high with Onion, Tomato, Karela and Lamb on-the-none in the thickest of Masala. A single Chapatti (60p) was then presented with a Bowl of Tarka Daal. I should have asked for a half portion, but at £4.50 I did not anticipate being too wasteful in terms of food or cash.
The Karela Gosht was incredibly well seasoned – the combination of Salt and the Bitter Vegetable makes this a unique complement to the Lamb. The Ghee content was higher this week, when it gave up its flavour Hector was taken to another place. The Lamb was cooked perfectly as ever, the ratio of Meat to Bone was less favourable than last week, however I was not at all concerned, there was The Side.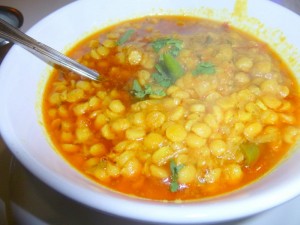 I am still trying to find a Glasgow outlet which sells a Makhani Daal, and then hopefully as impressive as that served up in Berlin and Ceske Budjovice this summer. Tarka Daal is a much less complex dish, with what appeared to be Yellow Split Peas sitting in a Mush of more of the same with Onions, Chillies and Tomatoes evident. This was a good complement to the intensity of the Karela Gosht, it prolonged the pleasure significantly, it did its job. I would estimate that I managed some four fifths of the generous portion before conceding.
Shahed once again made two visits whilst I was eating, firstly to bring a fresh Chapatti and secondly to see if there was anything else I required. Hector had all his Heart Desired.
The Bill
£13.50. Incredible value.
The Aftermath
It was shortly after 18.00 when I joined The Chaps in the Laurieston a couple of blocks along Nelson St. Tonight was Kenny's Stag Night. Kenny has promised to cook one of my Recipes in January and have the Chaps around for Part 2…