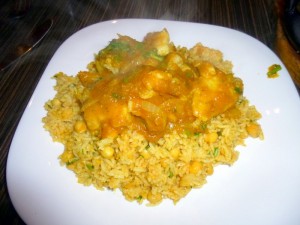 Hector watched the other Chaps devour rolls, sandwiches et al during yet another afternoon in Musselburgh at the excellent Staggs. Not for me such frivolities, A Fish Curry was in the mind of Hector, somehow the body communicates with the mind. The Ravi Machi as served at Café Salma (523 Sauchiehall Street, Charing Cross, Glasgow, G3 7PQ) would be the subject of this Curry-Heute.
Hassan was saying goodbye to one customer as I entered just after 21.00. The upstairs was busy, one assumes the downstairs had customers too. I was given a seat at the rear, adjacent to the cooking area. The serving staff were new, one mature Chap stood out, he had an air of gravitas which complemented the more gushy Proprietor.
The Complementary Poppadom, Onion Chutney and Dips were brought along with a new feature – a plastic half litre bottle of Sparkling Water. A bigger quantity and better value, one hopes. The Ravi Machi was ordered – without – and the Special Rice also – without. Sitting at the hatch, it was comforting to hear the order relayed – No Capsicum!
Hassan's Lady appeared from downstairs – How are you? Long time no see! Yes it has been four months. Hector cannot be everywhere, plus there are still new venues to try and others which have not been visited since the birth of this Blog.
The Ravi Machi is tried and tested, one doesn't always eat Lamb. As I was eating a bit later than normal the Fish would digest more easily. The Masala was lighter in colour than that served in the Lamb equivalent, but still had the classic Café Salma flavour and texture – Thick, with a subtle Sweetness.  The Fish fell apart when forked, with the definite Kick and Fish Flavour the combined Fish-Masala experience was most satisfying.
The Interesting Vegetable in the Special Rice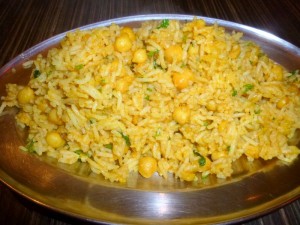 was Chickpea. Thirty years ago I would have shunned these, now I am more than happy to eat them. However, it did appear to be Chickpea Rice more than Vegetable Rice. A bit more variety would have been welcomed. Perhaps this was down to me restricting the content. There are many Vegetables to choose from, Karela for example…
The Bill
£14.25. This was rounded down to £14.00. When Hassan does this it becomes difficult to tip. The gesture is always appreciated.
The Aftermath
There was a rendezvous with Marg. Another fine weekend draws to a close. The Silly Season cometh, fear not, there will be Curry!