Helensburgh has been a virtual Curry Desert since the Akash (45 Sinclair St., Helensburgh, G84 8TG) closed in the summer of 2012. Tales of illegals working in the kitchen and consequent fines had allegedly brought a long standing operation to an abrupt halt. A handful of Takeaway outlets and a single, but very average restaurant – No.28 – were the only sources of Curry in this Clyde Coast Town. Lights were spotted by my Curryspondents Alan and Eleanor in recent weeks. Word of a late January re-opening was superceded by a rumour of a December 20th re-opening. What was fact – the New Menu was available from an adjacent Newsagent – Methi Karahi Gosht was on this New Menu.
Today is one of the three highlight days on the calendar, the start of the xmas vacation. After a massive feed at lunchtime we retired to the local Wetherspoons where the choice of Ale was so poor that Czech Budvar was the Tipple of Choice. By 20.00 The Munchies had returned, the Akash had been phoned – they are open! And there was a resolve that there would be Curry-Heute.
Steve and Hector were the first to enter the premises, Jamie would follow on, would Eleanor be tempted back out? Decor-wise nothing had changed, so reports of an internal re-design had been false. Shuel, son of the former Proprietor – Mr. Ali – was there to greet us. He will leave after a few weeks – a handover, a good ploy. That was my Geography Teacher – Shuel informed the two Chaps standing beside him at the counter. That was twenty years ago – Hector considered as he took his seat at the window. The Waiters were all new. We informed our Waiter that a third, Jamie would follow on, and there could be a Lady joining us too.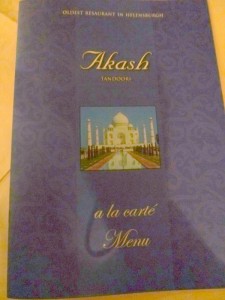 The New Menu still had Chicken Chat, but would it be the Signature Starter that has been unique to the Akash? Steve and I declined the offer to pay for Poppadoms et al, why should venues charge for these? The Chicken Chat would be enough. Steve ordered Vegetable Pakora – the Pakora Marg believes is the best served anywhere. I asked for my Methi Karahi Gosht to be as Dry as possible and Medium with a Kick. Is that Madras? – the Waiter asked. No, Medium with a Kick. I think the days of Madras, Vindaloo etc as Spice Ratings are long since gone, surely? Steve asked for the same dish, but Spicy. Steve opted for Pilau Rice and a Nan, Hector the standard two Chapattis (75p). Again, why are we charged for Chapattis and just how much will they cost in Aberdeen next week? The New Menu gave no information about the price of drinks.
Having left the room for a couple of moments, I returned to find Steve tackling his Pakora. You weren't here so they took your Starter away. Now the place was not busy, it did not take much to work out that my absence was temporary before bringing the food from the kitchen. The Chicken Chat was brought back. Oh no! It was Red, covered in a Sweet and Sticky – Sauce. This could easily have come from a jar. All this red food dye. The Dish was Cold. I had only been away moments. I tend not to send food back unless it is the wrong Dish or Raw. This was edible but so disappointing. That the Akash Chicken Chat enjoyed over more than thirty years has gone was a bigger disappointment.
Steve described the Vegetable Pakora as Average…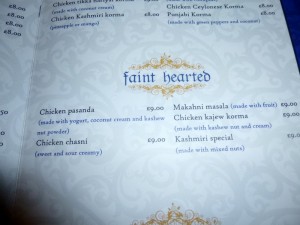 Jamie had arrived in the interim. Whilst he perused the New Menu I asked him if there was anything that he could consider to be insulting. Faint Hearted was a section of Main Courses, Jamie spotted this at once, we agreed that this was a bit risqué, perhaps insulting to those who have not graduated to the Full Bhuna. But then Jamie ordered Chicken Tikka Garam Masala, now which section of the Menu would the Hector locate this? More Pilau Rice and a Chapatti would be Jamie's Accompaniments.
The Methi Gosht Karahi #1
I had made it clear to the Waiter that I did not wish to be served Soup. The meals were not Soup but I had hoped for it to be Drier. What was served looked Bog-Standard Curry with an Onion-rich Masala. I was not getting much Methi from it at all. Steve considered the Lamb to be well-cooked to over-cooked. I was happy that it was at least Tender-Lamb and not Tikka. Of course we sampled each other's…we could not tell the Spicy dish from the Medium with a Kick. What we had was a fairly Average Curry, but then an Average Curry is still better than any food not from the Indian Sub-continent in my book. Witness the less than Happy Hector Expression.
One of the New Proprietors came over to ask what we thought. I had to tell him. I had asked for the Dish to be served Dry, and I am not getting Methi from this. He immediately offered to change the Dish. This was a positive, but I told him I was happy to eat what I had been served. Next time we will know better.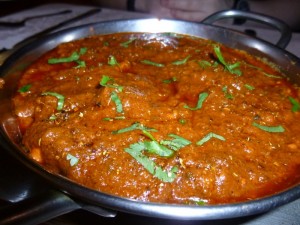 Jamie's Chicken Creation arrived, again it was very Red and Onion-rich. I am an Amateur Curry Eater, remarked Jamie. His Dish was Tasty though Milder than expected, the Chapatti received a commendation.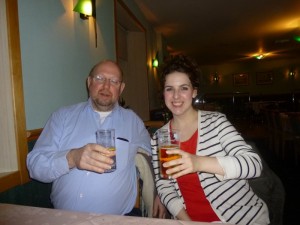 Unexpectedly Haley appeared and sat in the fourth seat. Oh, you have changed your mind – exclaimed the Waiter. No, this is not the expected Lady, this was a surprise. For the second time this week Haley sat on my left as I ate, last time it was Turkey… Haley ordered a Cobra, no food.
Methi Gosht Karahi #2
Another Curry was presented. This time in the classic Black Iron Karahi, not the Aluminium Serving Dishes our first Dish had been brought in. The Karahi was way too hot to touch. The contents immediately impressed, here was the Thickest and Driest of Leaf-rich Masala.
The Waiter said there was more Spinach, perhaps this explained why I still did not get a full Methi Blast. Were they using Fresh Methi? Steve noted the significant difference in Flavour and Texture. The Lamb was not so soft as in Karahi #1, however I do not think it was Tikka Lamb either. We did agree – More Seasoning – Salt to bring out all the Flavours. Now we have something to work with. If the Chef can recreate this Dish then there is every reason to return to the Akash. We have a dialogue.
The Bill
£56.20. The paying of The Bill was complicated by the presence of two pints of Cobra, we had no reference point.
The Aftermath
By now The Chap who was clearly the Senior New Proprietor had come over. Now I know who you are! You are the person who writes the reviews. He had evidently read my Blogs in depth as he knew of the famous visit made by the Legendary Dinnis to my Humble Helensburgh Abode back in 1998, or thereabouts. I note that the photograph of Dinnis is still behind the counter.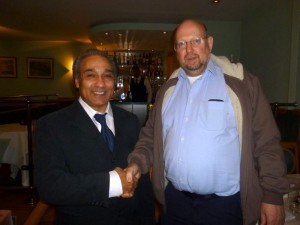 Mr. Mohammed Rashid started working in the 1980s in Falkirk. He is/has been involved in Curry Houses in Blantyre and Linlithgow. Neil may well have something to offer on the Linlithgow premises. It is many years since Hector and Marg ate a Linlithgow Curry.
New-co
This is new territory for Curry-Heute.com. Having eaten in these premises for thirty one years under one owner does this mean it is still the Akash? The Chefs have come and gone, the Akash even changed premises. It says Akash above the door, it says Akash on the New Menu, there is the potential for a stunning Methi Karahi Gosht, but can we have the Akash Chicken Chat back?