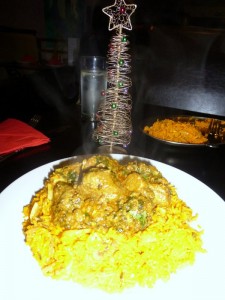 Hector will be eating a lot of Curry in the next days and many miles will be travelled to consume them. This evening Hector was once again the Lone-Diner at the Punjabi Charing Cross (157-159 North St, Glasgow G3 7DA). The customary warm welcome was in vogue, Ram was interested in my plans for New Year, Bradford is calling in terms of Curry. The Punjabi had done well on xmas day with around 100 covers. Ram was given the task of delivering Takeaways all over the South Side as they had closed their Ibrox premises and had diverted all calls to the City Centre branch.
Rice was in Hector's mind this evening, I haven't had Rice in ages. Whether a Mushroom Rice would suit the wonderful Lamb Gurmeet was a risk worth taking. The Complementary Poppadom and a rather anaemic Onion Chutney were brought with amazing efficiency. The Sparkling Water as ever was offered, they know the order.
The Lamb Gurmeet is a Karahi variant with extra Methi, the Lamb is on-the-bone. I was left with the distinct impression that my favourite Chef after whom this Dish is named was not on duty this evening. The Lamb Gurmeet was not its usual self. The Methi was there but the Lamb revealed some very strange bones. It was definitely Lamb, the flavour of the Lamb was pronounced, a Garlic-Herb flavour to the fore. It was not really Spiced at all, it felt like my favourite Greek Dish – Kleftico – on the Palate. I have always regarded Kleftico to be as good as a Curry. The Body of Hector required Rice, this absorbed much of the minimal Masala and took away the normal intense Flavours from the Dish. Indeed the combination of this Curry, Rice, Onion and Mushrooms took me back to the 1970s, quite bizarre.
The Bill
£13.95. Ganz normal.
The Aftermath
The Counting House had five Oakham Ales on this evening, this deserves an entry in Bier-Traveller.
Neil is off to the Rawalpindi (Sauchiehall St.) this evening, now there is a venue Hector has not visited for decades…