Nine expected at the Sheesh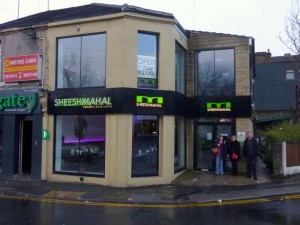 The A65 is a frustrating road to drive. It is the main road in a south-easterly direction from the M6 into West Yorkshire, much shorter than the M62 alternative but frequently taking longer to negotiate. It was after 15.00 when Marg, Yvonne, Craig and Hector entered the famous Sheesh Mahal (6 St. Thomas's Rd, Bradford, BD1 2RW). There was a table set up – For Nine? Asked the Waiter. We are only eight – replied Hector. Mags, Howard, Robin and Jonathan were not far behind, our timely arrival due to the advantage of local knowledge and non-dependence on Sat-Nav.
The table was covered in plates of Poppadoms, Dips and Salad, we were expected. Sadaqat, the Daytime Host, was spotted in the background, he would make his formal appearance later. The Waiter was happy to take my order – The Omar Special – Lamb on-the-bone Karahi-style with extra Methi. Yes, Dear Reader, Hector's best interpretation of what makes the Perfect Curry.
Marg had other ideas, Chicken Kashmiri. Yvonne went for Chicken Pathia and Craig Chicken Methi. Chicken. Howard, Robin and Mags on their first visit followed Hector, Jonathan did not wish to be left out. No sooner had we ordered than Dr. Stan made an appearance. Six Omar Specials. Mr. Holden had dropped off Dr. Stan but was not making an appearance for Curry. The Man from Bradford says – No!
The Omar Special was based on Lamb Chops. The appearance was stunning never mind the flavours. Thick with Methi and no doubt other Leaves this dish is perfection. Howard was impressed – A real depth of character and taste, absolutely stunning. At the far end of the large table Mags was also taken aback by her first Sheesh Mahal Curry, no doubt Dr. Stan concurred.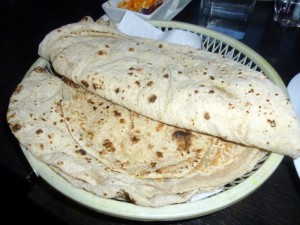 We had all ordered Chapattis, literally Dozens were brought to the table – and being Bradford, inclusive in the price of the Curry.
Another Sadaqat Challenge
Marg had spotted Sadaqat entering and leaving the premises often enough to deduce that he was on deliveries. However he made his presence known when he presented a generous Complementary plate of Liver with Egg. More Liver. H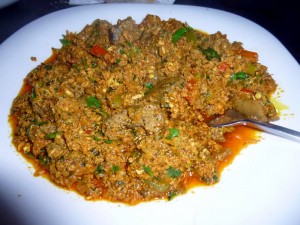 ector does not enjoy this meat and so took but a sample, not for me. Jonathan was so impressed he wished he had known it was available. Jonathan would have ordered the Liver and Egg had it been on the Menu.
The rest of the table gave positive acknowledgements, this is a great way to discover traditional dishes one might not normally consider. The Brains, Testicles and Tripe served up last time are much more to the Hector Palate.
Some ate Chicken
Marg loved her Kashmiri complete with anticipated Fruit – Fruity with a Wee Kick, an Ample Quantity, Easy Bight Sizes. Yvonne remarked at how small the meat had been cut, this is the Bradford way. Spicy and not Over The Top – was her verdict, though the Fresh Green Chillies did find their way on to the Plate of Hector.
Craig was taken away for once by the quality of the food and not the heat. Absolutely Superb – was his verdict on the Chicken Methi. Craig then set about finishing Yvonne's surplus before tucking in to his share of the Liver and Egg Curry. Three Plates of Curry in one day – I am a Junior Hector!
 The Bill
£72.50. Yes, this was for Nine Diners and do not forget the extra Curry.
The Aftermath
Omar (with Beard) made a grand entrance. He had turned up an hour before his shift to greet us all. He insisted we stay on to sample some Asian Sweets.  No doubt it was he who picked up an informal booking on a social media device and had taken it as genuine. If Hector said – Nine for Curry mid-afternoon on December 30, it was written. I was then supplied with Omar's mobile number – If you wish Curry delivered to Huddersfield, let me know. What about Glasgow?