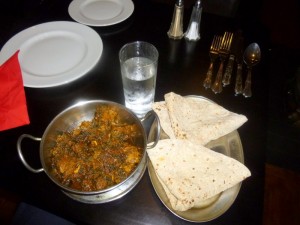 Some of us don't return to work until Tuesday, so what better than a Sunday afternoon Ale followed by Curry-Heute? Others had their own plans for food so I popped next door to the Punjabi Charing Cross (159 North Street, Charing Cross, Glasgow, UK G3 7DA) to give thirty minutes notice of my arrival.
With Season's Greetings exchanged, Hari suggested a Starter I may not have experienced – Keema Padora. Clearly it would have Mince, but what else? This and my normal Lamb Gurmeet would be the order. Ram took the opportunity to apologise for my last Curry on these premises lacking the customary – Wow-Factor. Ram evidently reads all that is written about this very fine establishment.
Keema Padora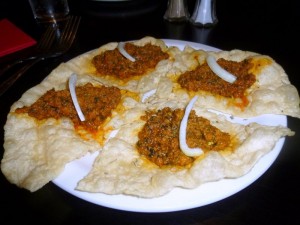 This was an instant hit. Four Spoons of a Bradford-Dry Mince Curry set on a Quartered Puri. Being pre-sliced this meant the natural Bread-pouch was easily formed, simple to eat, a wonderful experience. Wait until Dr. Stan and Ricky taste this. Hari assures me this dish has been available at the Ibrox branch for some time. This is guaranteed to be a hit with the rest of The Chaps and Chapattis. One could easily have departed at this point, but there's more…
Lamb Gurmeet
This was bang on form. Lamb on-the-bone and a Thick Masala bursting with flavours. With two Accompanying Chapattis (75p) this was quite a volume to take on after the more than adequate Starter. The Lamb was perfectly seasoned, due to the on-the-bone choice, one has to accept a wee bit of Fat in the mix. A Boneless Curry simply does not compare, such was the level of pleasure I have to state that this Curry was one of the best I have ever been served in Glasgow.
The Bill
£13.35. One concludes the Keema Padora was On-the-House.
The Aftermath
Hari joined me for a good chat. Does anyone ever ask for Lamb Gurmeet? I had to ask. Apparently this Hector-styled Dish has been asked for by name, but not by many. What has taken off is Lamb on-the-bone, Hari informed me that he has to ensure that this is available at all times. He perceives that the Glasgow Curry Taste is finally evolving away from the Plates of Soup with Boneless Meat, and not before time. Still, many will always consider that to be Curry.
Dal Makhani has come up in conversation in recent times.  Hari has promised to prepare this, given notice.  Such is the time in preparation he could never expect to stock it on a commercial basis.  Hector is also long overdue experiencing the wonder that is Karela prepared by Hari's Wife.  It is time I arranged another Big Curry N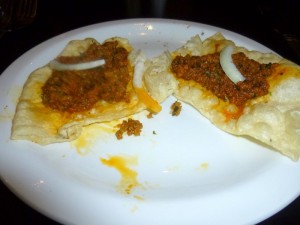 ight out.
There is a new Takeaway Menu on display at the entrance, I must inspect one. Does it include the full range of superb Curry dishes on offer at this venue, including Goat, Venison and the newly revealed Keema Padora?
Update
With more time to peruse the Takeaway Menu, Hector is pleased to note the presence of Goat and Venison (on demand).  The Keema Padora is there too, and the Dal Makhani!   Now to work on the Lamb Gurmeet.