This is the mid-point of a Hectic Weekend. It will also optimise the intake of Curry. After yet another fine visit to The Staggs (Musselburgh) Hector bade farewell to his Co-Travellers and headed for the Punjabi Charing Cross (159 North Street, Glasgow, G3 7DA). This is where the week began with one of the most impressive Curry Experiences Hector has ever enjoyed. The Hector Test for any venue is – Can you repeat it?
The order was recited by the New Waiter before I had reached my seat and parked my jacket. Keema Padora and Lamb Gurmeet. A single Chapatti would suffice, the Sparkling Water as ever completed the deal.
Apart from Private Functions, tonight was the busiest I have ever seen these premises. This is pleasing. Hopefully this Humble Blog will win a few more customers. Ram came over and acknowledge that I was repeating the Keema Pandora (sic) Experience. Who is winding up who? Four Guys were here earlier and ordered the Keema Padora – Ram told me. One, Archie, had mentioned Curry-Heute and had order Lamb Gurmeet, but a boneless version. This must have been The Archie, the South-side Curryspondent of this very Blog. One anticipates comments soon.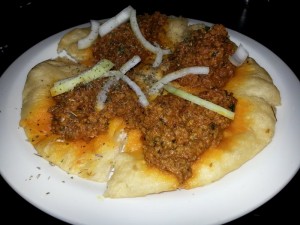 The Keema Padora is everything Hector looks for. The intensity of the Flavour, Dry as Curry can be served, and Spiced and Seasoned exactly to the Hector Palate. The Slivers of Fresh Onion provided a lovely Crunch, the Puri-style Bread again a beautiful Complement. I could eat three of these and ignore a Main Course. Or, maybe I should order the Keema as a Main Course?
Maybe someday I shall?
A Suitable Gap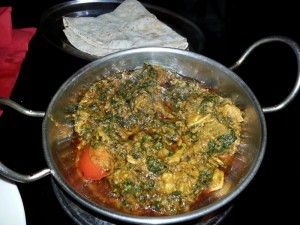 We agreed a ten minute before the bringing of the Main. The Lamb Gurmeet on-the-bone gives pleasure just by its very appearance. The Herb-rich Thick Masala and the most Tender Lamb is what Curry is all about. There was less Fat on the Lamb this week. The presence of the Bones always packs more Flavours. Ram asked how it was. I had to admit that a bit more Seasoning would have made the dish absolutely perfect. Did the Lamb Gurmeet pass The Test? Well of course, it did.
The Bill
£17.70. A Starter and a Main Course, not the normal Hector Dining Pattern.
 The Aftermath
 Over to Archie….