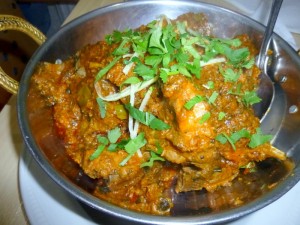 Whilst the rest of Britain struggles with a skiff of snow, Glasgow is merely Baltic, seriously. What better way to warm the cockles than a traditional Friday pre-Ale Curry-Heute at Yadgar (148 Calder St., Govanhill, G42 7QP). Dr. Stan pooh-poohed Hector's suggestion that he try the Lamb Chops Achari, why? The order was texted to Shkoor, Mein Host mid-week. Starters were declined, let's have a Lamb Chop Frenzy.
Dr. Stan was in situ at the small table furthest from the door, the place was quite busy. The Complementary Poppadoms and Onion Chutney were brought along with the ritual soft drinks. Shkoor greeted us and once again Starters and even the traditional Salad were declined. We agreed to spell the Chapattis so that batch two would be warm. Did I mention it was cold?
Shkoor placed a plate of Palak Masala on the table first. When I last had Lamb Chops Achari at this venue it was as a guest of the house and in the company of Ahmed from Islamabad. The same dish was an Accompaniment that evening. It must be the perfect counterpoint to the Achari Flavours.
Behold the Lamb Chops!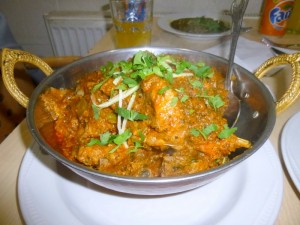 A large Karahi of Lamb Chops was set on the table – gosh! I think we might just manage this… Three Chops each were spooned on to our respective plates along with a few spoons of the Palak Masala, a mountain of Chops remained. Shkoor came out for inspection, with a mouthful of meat all I could do was nod. Dr. Stan was immediately impressed. He realised that any Achari experience he may have had can now be put in the past, this was Yadgar Achari. The normal Thick and Rich Yadgar Masala with the exact proportion of Lime Pickle, this is indeed a treat. Alternating with the Spinach this meal was another delight.  Glasgow Curry at its very best.    Mmmmm – was as much as Dr. Stan proferred. No more needed to be said, this was another very special Curry Moment.
After six Chops (each) I stopped counting. The pile of Bones grew, the Karahi approached emptiness. At the base of the Karahi the Ghee had settled, the Masala had accumulated, an even greater Achari Blast! The Kebab Chaps at the adjacent table watched with interest – I thought we ate a lot.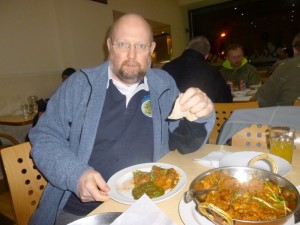 Shkoor offered Dessert and Tea, also declined. We came for The Curry, we had eaten to the level of Complete Satisfaction.
The Bill
£25.00. How little? We insisted on paying more. We know we are on a good thing here, so let's not spoil it.
The Aftermath
Lord Kelvin may have a Scale to measure the Temperature of this Dark Glasgow Night. For once the warm Temperature of the Ale at The Laurieston was welcoming.