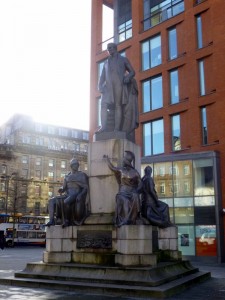 Hector arrived in Manchester last night armed with a Google-Map printout of Curry Houses on the edge of the City Centre. No Curry-Mile tonight, let's find what else is available outside of the Northern Quarter. Only Dr. Stan and Jonathan were left from those who had started on Thursday at the Manchester Winter Ale Festival. A Pint was waiting for me at the New Oxford, sometime later we departed, Jonathan in search of thee Travelodge, Dr. Stan and Hector on the Slippy Trek back from Salford. He convinced me that the walk back to the City would be no problem. That the Sleet was falling and had settled underfoot was making walking conditions poor. An unverified Google listing – Lights of India (39 S. King St.) had taken my fancy. Dr. Stan and I separated on King St. and there began the problems. It was dark, it was wet, the map was in risk of turning to pulp. South may have been a dimension too far…neither the Curry House or the Restaurant revealed itself. What puzzled me more was that we had walked back from Salford and had not passed a single Curry House, how was this possible?
The Arndale Centre was spotted, a familiar Beacon. Two years ago I first toured the Northern Quarter on a late January Evening and found only closed Curry Houses. Tonight was no different. I asked some Bouncers, they pointed to the only illuminated premises in view, – Try there. I did, Burgers and Pizza is not what I had in mind.
I walked back to Piccadilly and found the Taxi Rank opposite the Wellington Statue where my sojourn had begun some four hours earlier. Two Taxis withdrew as I arrived, surely another would come soon. Did I mention the Sleet? The Outer Garments were beginning to soak. I crossed the road thinking I might flag something down. By now the Rusholme Curry Mile was foremost on the mind. One cannot come to Manchester and not eat Curry. In the end (01.00) The Hector had to admit defeat – there was to be no Curry-Heute.
Well strictly speaking there would be, this morning there was a need for Breakfast. The Hotel had this as an £8.00 option. The Curry Cafés of the Northern Quarter would feed me for less. Al Faisal (58 Thomas St., Manchester, M4 1EG) has been my favoured Breakfast Venue for three visits to date, perhaps a time to return to This and That (Soap St.).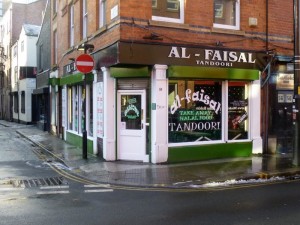 Alas, Mein Host was not ready, their official opening time was 11.30, it was only 11.12. Al Faisal it would be once more.
There was a suggestion of recognition from The Chap sitting with his back to the door and getting stuck into who knows what? Lamb Karahi once more looked like the optimum dish on offer – with two Chapattis.
No sooner had I sat down than the Dish was presented. This is what they have ready, bubbling on the steam devices which keep food warm. Glasgow/Bradford this is not, one expects Shorva at best, Soup at worst. Had the Karahi been served in the metal container from which its name derives, this would have been Soup. On the flat plate one can see exactly what one is being served.
The Masala is a throw back to the 1960s, obvious Ghee, definitely Onion-based, and a serious Kick. I was trying to work out if the Old-Fashioned flavours came from Black Pepper or Ginger, maybe both. Ten decent sized pieces of Lamb were the only Solids, should I have had searched for the Interesting Vegetable? One knows what one is getting here. It is not the greatest Curry on the Planet by any means, but it has proved to be consistently Satisfying. For Breakfast/Lunch this is ideal. I believe that every time I have eaten here, another Curry has followed in the same day.
The Bill
£6.20. Much cheaper than the Hotel Breakfast and much more satisfying.
The Aftermath
The rest of The Chaps had gone ahead to Liverpool. It is some Fifty Years since I last set foot in this City. So, Liverpool it was then… would there be Curry-Heute?